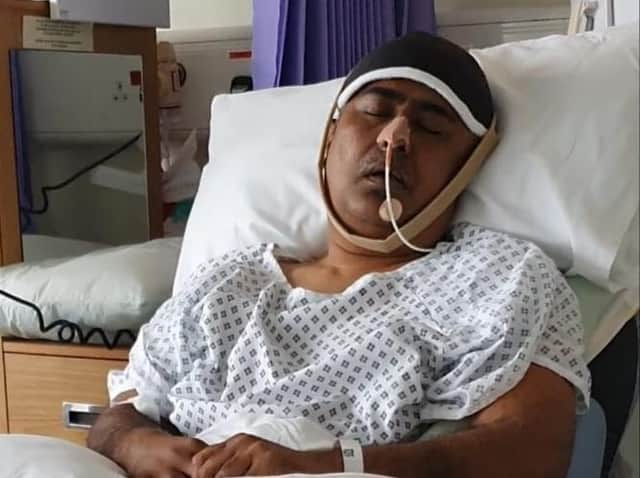 Dr Hossain is currently hospitalised and may never be able to work again.
On the evening of 10th August, life changed forever for this dedicated doctor after he suffered severe stroke meaning he will never be able to work again.
On the frontline throughout the Covid-19 crisis, the 50 year old father-of-three was working at Chorley hospital, on the Gastroenterology Ward as a consultant but his condition means his family have no income coming in for the foreseeable future.
With no other family living in the UK, his wife and three children risk losing their home unless they can raise £150,000 through the GoFundMe page to continue supporting them and Parvez's recovery.
Ellise Critchley, fellow nurse on Chorley's Gastroenterology Ward said: "During the pandemic we became a full Covid ward of 30 beds and we had Dr Hossain as an agency consultant to help and take over patients' care during such a difficult time whilst still having a young family at home".
"Dr Hossain is an incredible consultant and has worked all over Preston, Chorley, and Blackpool and is very well known. He took a short contract to work whilst the ward was turned into a full Covid ward and put himself at risk".
"It is unlikely he will return back to himself as he has full right sided weakness, is unable to talk and understand. He is the sole provider for his family who live in Preston, but as an agency doctor, he is not covered with sick pay so there is absolutely no income in the home.
"Dr Hossain is literally the kindest man I have ever met, he would do anything for anyone and expects nothing in return. He goes out of his way each day for his patients and also for the staff he works with. He is so thoughtful and has time for everyone. We are all praying and hoping for his recovery."
Dr. Tawfiq Choudhury, a close family friend set up the GoFundMe page to support the Hossain family. He wrote: "We have personally known this gentleman and he has made a huge impact on several lives. He gladly helps anyone and never asks for anything in return.
"The family's energy at the present time is focused on his recovery but to prevent the family from losing their much loved home and to help them sustain their daily living we desperately need help.
"If you can donate, however small the amount, it would really help to keep some normality for this young family at this difficult time."
Dr Geraldine Skailes, Medical Director at Lancashire Teaching Hospitals NHS Foundation Trust, said: "Dr Hossain worked with us as an agency doctor and clearly made a lasting impression on both colleagues and patients. "He and his family remain in our thoughts during what is a very difficult time."
The fundraiser has, in under 24 hours, raised just short of £20,000 of their £150,000 target. Anyone wishing to donate can visit the GoFundMe page.