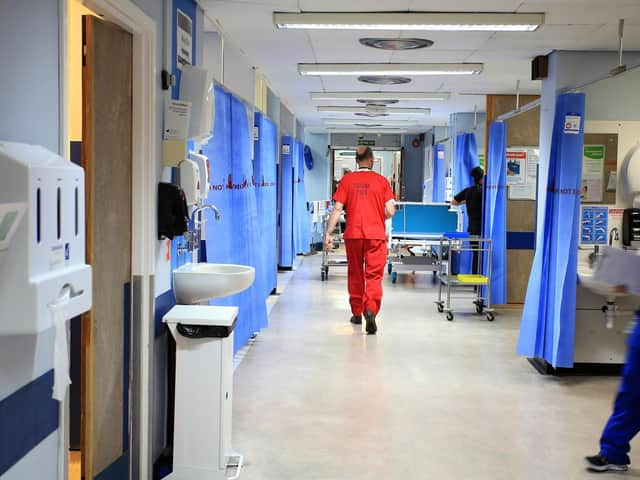 Lancashire Teaching Hospitals NHS Foundation Trust saw a 31 per cent rise in sick days due to mental health problems
Mental health charity Mind said it is "worrying but not surprising" that mental health sick days among NHS staff increased across England when the crisis hit, as many frontline workers were forced to spend time isolated from their families.
And with the country in the grip of a second wave – and another lockdown – unions are calling for the Government to invest in increasing NHS workforce levels and staff pay to boost the morale of "exhausted health workers".
NHS Digital data shows the equivalent of 38,925 full-time staff days were lost due to sickness at Lancashire Teaching Hospitals NHS Foundation Trust between April and June.
Of these, 12,366 (32 per cent) were because of stress, anxiety, depression, or other psychiatric illnesses.
That was an increase of 31 per cent compared to the same period last year, when 9,456 days were lost for these reasons.
A spokesperson from Lancashire Teaching Hospitals NHS Foundation Trust said: "In common with NHS Trusts up and down the country, we know that working under the extreme pressure of the pandemic has been incredibly challenging for staff across our hospitals, both physically and psychologically.
"We have been overwhelmed by their dedication to providing care of the highest possible standards to our patients, and that's why we regularly encourage staff to utilise our mental health wellbeing services. At the beginning of the pandemic, we set up our in-house Staff Psychological Wellbeing helpline, which offers listening, psychological first aid and coping strategies for any mental health related issues.
"This complements our wider psychological wellbeing offer for staff which includes clinical psychology, CBT therapy, counselling and mindfulness training. In the last few months, we have recruited additional staff to deliver this service and this is helping us provide bespoke support for staff particularly affected by the pandemic, including those working in frontline areas, individuals who have been shielding and colleagues from Black and Asian Minority Ethnic backgrounds.
"We also regularly signpost staff to additional support, such as the Minds Matter service, wherever we can; and we have recently launched an Employee Assistance Programme, which offers 24 hour/7 day access to a wide range of telephone and online support and resources.
"We have also teamed up with the Lancashire and South Cumbria Resilience Hub who are offering Covid-related psychological support to all public sector workers and their families in the region.
"One of the other things that we have been able to do, due to the support of generous individuals and the wider community, is to plan a number of ambitious projects to improve the rest and recreation areas for our staff at both our hospitals which will help provide a calm environment for staff during their down-time in the challenging months ahead and for many years to come.
"We strongly encourage all of our staff to come forward if they are experiencing any problems or changes in their mental health so that we can get them the support they need in these challenging times."
Across England, the number of mental health sick days among NHS staff rose to nearly 1.5m between April and June, up from 1.1 million in the same period last year.
Sara Gorton, head of health at public sector union Unison, said healthcare workers have "paid a heavy physical and psychological price" to keep the NHS running.
"Staff shortages, while dealing with the backlog of cancelled operations from the spring, and the stress and trauma of working through the pandemic have hit hard," she added.
"Kind words and applause can only go so far. The Government should do the right thing next week and boost morale with a significant pay rise before Christmas. This would make the world of difference to staff and the NHS during this punishing second wave."
Susan Masters, director of nursing, policy and public affairs at the Royal College of Nursing, said a rise in the levels of staff needing to take time off for stress and anxiety during the pandemic "should come as no surprise".
She added that fundamental investment is needed to "grow a depleted workforce" and avoid a further increase in stress and sickness levels.
Stress, anxiety and depression was the most common reason for sickness absence at Lancashire Teaching Hospitals Trust between April and June, followed by infectious diseases (10 per cent) and "other musculoskeletal problems", such as arthritis or gout (eight per cent).
Emma Mamo, head of workplace wellbeing at Mind, said many healthcare staff I'told the charity they faced tough decisions around their personal lives during the first wave.
"Sometimes they felt conflicted between their duty to patients and their need to protect their family and friends, with some forced to live away from loved ones to minimise the risk of infection," she added,
"Common misconceptions around resilience and immunity to poor mental health – the 'superhero' narrative – can actually prevent people asking for support when they need it, particularly from their manager or employer."
An NHS spokesperson said more than 400,000 NHS workers accessed a health and wellbeing programme encouraging staff to look after their physical and mental health during the first wave.
They added: "NHS staff have worked tirelessly to protect the health of the nation throughout this pandemic and it is vital that they are looked after too, which is why the NHS is investing an extra £15m to expand and strengthen mental health support services available to staff."