Alex prepares for triathlon from home in support of DKMS stem cell donation charity
Super fit Alex Worden is not going to let the Covid crisis get in the way of his charity fundraising.
Wednesday, 27th May 2020, 2:36 pm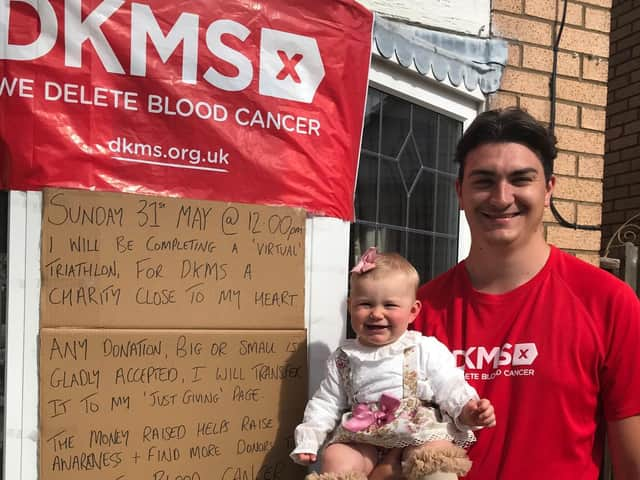 Alex and daughter, nine month old Pearl Lily, pictured by a poster and banner promoting the triathlon from home
The 25 year old is planning to complete a triathlon from home, after the endurance event he was training for was cancelled due to the Coronavirus pandemic.
The electrician from Farington Moss near Leyland has a very special reason for wanting to complete his triathlon. He is running, rowing and cycling to draw awareness to the need for more stem cell donors and any funds raised from his mammoth effort will go to donor search charity DKMS.
He explained that a relative of his wife is currently in need of a stem cell donor. Unfortunately none of the family is a match, which highlighted the need to raise awareness of the urgent need for stem cell donors to fight blood cancers.
Alex will row 2.5 km in his front garden
Alex had been due to take part in The Splashworld Triathlon in Southport on April 26 and said: " I was doing it for a family member for a charity. I had been training since just before Christmas. JustGiving sent me an email saying I was one of 38,000 fundraisers in April and I was in the top five per cent."
That gave him the boost to get back to training with a new determination and proceed with his own from home triathlon
DKMS is an international charity with a mission to "delete blood cancer". Alex said: "They get stem cell matches for people with blood cancer. Noone in the family was on the register. That was one of the reasons (for my triathlon)."
He explained he hopes his endeavour on May 31 will raise awareness of the charity which sends out swab kits and has a donor register. Andy said:"You send off the swab to see if you are a match for people who need transplants The money raised will go direct to the charity. It needs more awareness."
Alex promoting awareness of DKMS
Because he can no longer do a swim due to lockdown he is replacing that element of the triathlon with rowing on a rowing machine.
He said: "I'm going to do a 2.5 km row in front of the house, then go on a 20 km bike ride and then do a 5km run around Lostock Hall."
The bicycle ride will take in New Longton, Walmer Bridge and Penwortham.
There to cheer him on as he sets off from his St Paul's Close home will be wife Lizzie and daughter nine month old Pearl Lily. Alex pledged: "There will be no stopping and (it will ) be taken very seriously just like the competition and event I was entered in."
Alex says he used to play football and go to the gym, but has never undertaken such intensive training before. The plight of his family member, who has now been matched with a donor, was the spur he needed.
He added: "I want to do something to help.The more that register the more matches there can be for everyone around the world.
"I'm on the register ready to donate when I get the phone call through if I ever become a match. It doesn't cost anything to apply for a swab kit. It's all free. You just go on the DKMS website and apply for a free kit and potentially save lives."
Alex has so far raised £1,875. He added: "Donate as much as you feel appropriate as this could go a long way and PLEASE spread the word and let people know about the charity and cause".
See www.justgiving.com/fundraising/alex-worden and https://www.dkms.org.uk/en