39-year-old cardiac arrest patient 'would not have died' without hospital and ambulance failings, inquest finds
A 39-year-old cardiac patient at the Royal Preston Hospital died after medics failed to offer him a special device designed to restore a normal heart rhythm - and the ambulance service later left him waiting too long for a paramedic when he began showing signs that he might be in trouble.
Watch more of our videos on Shots! 
and live on Freeview channel 276
Visit Shots! now
The devastating double error by different parts of the NHS in Central Lancashire led to the death of Oliver James Campbell, a coroner has found.
Mr. Campbell passed away at the Royal Preston in August 2021, as a result of mistakes made five years apart - the first by the hospital itself and the second by the North West Ambulance Service.
He could have survived either one of the lapses in his care had it been the only deficiency in the treatment he received - but the twin failings combined proved fatal.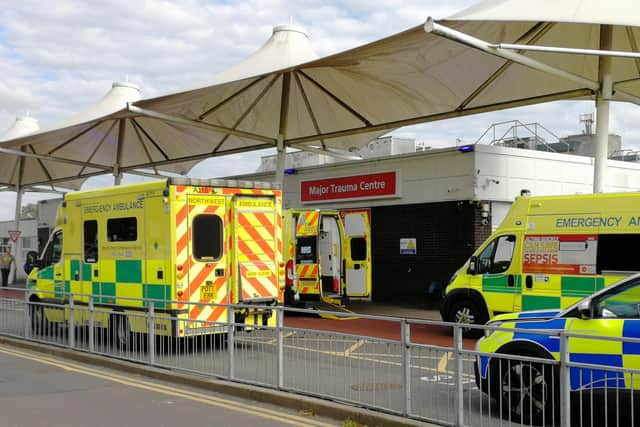 Both of the NHS services involved say they have made changes in the wake of the tragedy.
An inquest held last week heard that Mr. Campbell already had a history of heart problems when he was admitted to the Royal Preston in 2016 with a cardiac arrest - something that put him at heightened risk in future.
When he left hospital, a discharge summary should have been prepared "setting out his diagnosis and future treatment", area coroner Kate Bisset said in her narrative conclusion in the case. She added: "This ought to have been sent to his GP and cardiologists. This document was not created.
"As a result of this, Mr. Campbell was not offered an implantable defibrillator device and no such device was in place at the time of his death. His death would have been prevented if he had been fitted with this device following his 2016 cardiac arrest."
However, Mr. Campbell still could have survived a second incident five years later, had it not been for delays in him receiving help on that subsequent occasion.
On 31st August, 2021, Mr. Campbell displayed signs of what is known as "peri-arrest". According to the Sudden Cardiac Arrest UK charity, that is "the recognised period either just before or just after a full cardiac arrest, when the patient's condition is very unstable and care must be taken to prevent progression or regression into a full cardiac arrest".
Mr. Campbell's partner dialled 999, but, Ms. Bisset said, "the call was not managed in accordance with policy standards which resulted in an inaccurate categorisation of the urgency of the situation".
"This meant that paramedics attended four minutes later than was possible. Had the call been managed in line with policy standards, paramedics would have attended sooner and Mr. Campbell would not have died on 31st August 2021."
Responding to the coroner's conclusions, a spokesperson for Lancashire Teaching Hospitals NHS Foundation Trust, which runs the Royal Preston, said: "
"We would like to offer our sincere condolences to Mr. Campbell's family for the failings identified in 2016.
"The Trust has carried out a full investigation and put in place a detailed action plan to strengthen processes surrounding all discharge letters."
In a statement, a spokesperson for the North West Ambulance Service said: "We would like to offer our sincere condolences to Mr. Campbell's family following his tragic death.
"We acknowledge the coroner's findings and apologise that we were unable to reach Mr. Campbell as soon as we would have liked. We have introduced changes since Mr. Campbell's death to the way that we triage calls to ensure that our ambulances reach those most in need as swiftly as possible."
According to the British Heart Foundation, an implantable cardioverter defibrillator is "a small device which can treat people with dangerously abnormal heart rhythms".
"It sends electrical pulses to regulate abnormal heart rhythms, especially those that could be dangerous and cause a cardiac arrest.m" the organisation says on its website.