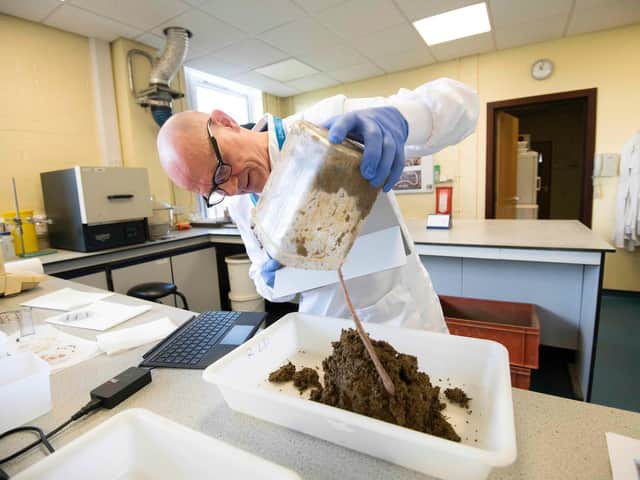 Worm expert Dr Kevin Butt prepares the lab at UCLan so he can give St Gregory's Catholic Primary School children a tour.
University of Central Lancashire (UCLan) researcher and worm expert Dr Kevin Butt has been teaching St Gregory's Catholic Primary School in Deepdale about the importance of the slimy invertebrates.
The children are learning about the vital role worms play in ecosystems with six of their very own wormeries.
Dr Kevin Butt said: "I'm delighted to be working with St Gregory's on this exciting project. "Everyone ought to be aware that earthworms play a vital role in maintaining healthy soils and are natural recyclers of organic waste."
Worm expert Dr Kevin Butt shows St Gregory's Catholic Primary School children around his laboratory at UCLan
A total of six wormeries have been set up at the school so that all of its children can care for the worms and take part in experiments.
During lockdown, St Gregory's children were invited to Dr Butt's lab via video link where they learnt about different species of earthworms, earthworm life cycles, and how to set up a wormery.
"Despite lockdown restrictions, we've still been able to get hands-on with science and hopefully inspire the pupils by showing them how science touches their everyday lives and the role the children themselves can play in it," said Dr Butt.
"I'm looking forward to going into St Gregory's in the future to help the pupils with their experiments on their very own wormery and to help the older children do more sophisticated experiments feeding different leaves to soil dwelling earthworms."
Pupils Mary and Nevin in the wormery, photo: Neil Cross.
Dr Butt is part of a research team which discovered the UK's largest earthworms in 2016. They were found on the Isle of Rum, just off the Scottish coast, and measure nearly 40cm - more than three times the length of the average UK earthworm.
Dee Chamberlain, the St Gregory's teacher responsible for the project, hopes that the experiments will help the children to see that 'science is all around them'.
"Over the coming months the children are going to be actively engaged in scientific research and investigation, raising and answering questions to discover for themselves why earthworms are so important to our world," she said.
"This will give real meaning and purpose to their learning and help them to see that science is all around them and something that they can be part of.
Bella and Harry enjoying the wormery at St Gregory's Catholic Primary School, photo: Neil Cross
"Dr Butt is quite inspirational and staff and pupils alike are 'buzzing' with excitement."
A Year 6 pupil, 10-year-old Megan Roberts, said: "I never realised how exciting worms were.
"After hearing all about them and what they do, I just want to learn more about these creatures. It's going to be very exciting."
Nevin Manu, 11, said: "I loved the whole launch but my favourite part was when Dr Butt showed us all the pictures of fascinating worms.
St Gregory's Catholic Primary pupil Harvey with one of the school worms, photo: Neil Cross.
"I am looking forward to all the spectacular things that are going to happen, especially the fact that our school will have a few wormeries for ourselves and we will be able to do real science research."
The Royal Society has supported the wormery project as part of its 'Tomorrow's Climate Scientists' programme which is funded by The Royal Society's Partnership Grants scheme.
The grants help schools which research climate change and biodiversity and encourage students to take action to address these issues.
"This is an amazing opportunity for our children, one which would not have been possible without the involvement and support of both Dr Butt and the Royal Society," said teacher Dee Chamberlain.