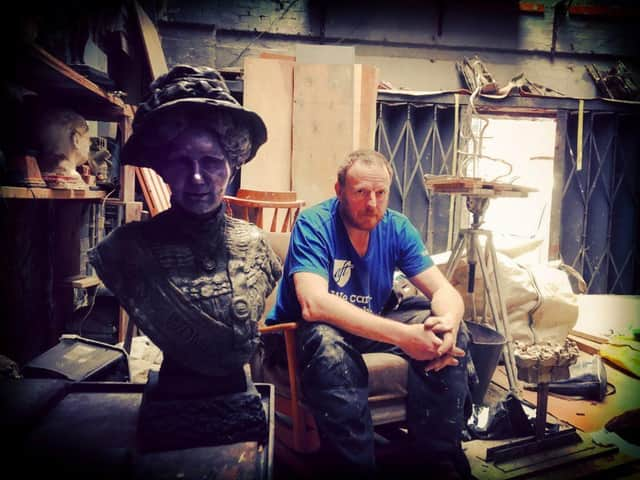 Phil Garrett has donated the suffrage statue to Edge Hill University before heading off to Italy to start on a new career path
Artist Philip Garrett has donated a poignant sculpture to be displayed for posterity at Edge Hill University in recognition of it's strong ties to the suffragette movement.
Phil, who studied for a Post Graduate Certificate in Education in design and technology at Edge Hill in 2000, gifted his latest work to his old university before setting off to start a new career in Italy, where he will be learning to carve marble from some of the greatest masters in the field.
He said: " My plan is to place works in places where the art can be seen and remembered, depicting strong figures that have had a positive impact on grass roots people.
"Alice Hawkins, the sculpture I've donated to Edge Hill, was from humble origins as a working-class shoemaker at a local factory in Leicester and was closely tied to the suffrage movement, which of course will resonate with the university."
The Ormskirk-based institution has a long history of championing women's rights and equality, from its pioneering role as the first non-denominational teacher training college for women, to its links with the suffrage movement.
This heritage is depicted in the green and purple of the university's corporate and ceremonial colours and in Edge Hill's commitment to promoting diversity and equality.
Reflecting on his time at Edge Hill, Phil said: "Looking back, the course encouraged me to start working in three dimensions as opposed to printmaking and drawing.
"My time at the university took me to the classrooms of St Bede's in Ormskirk and my old school Maricourt High on placements.
"A year after I graduated, I met Liverpool sculptor Terry McDonald who introduced me to working 'in the round.' Terry was apprenticed to sculptor Tyson Smith from 1946 to 1956 and has influenced many artists ever since, including myself."
Nowadays, Phil's work showcases portrait sculpture, drawings and paintings and subjects depicted are of people in the community and figures from history worth remembering and celebrating in sculpture, including women's rights campaigner Eleanor Rathbone and political activist Emmeline Pankhurst.
His intention is to use his work to reclaim art as an expressive medium for society's social struggles.