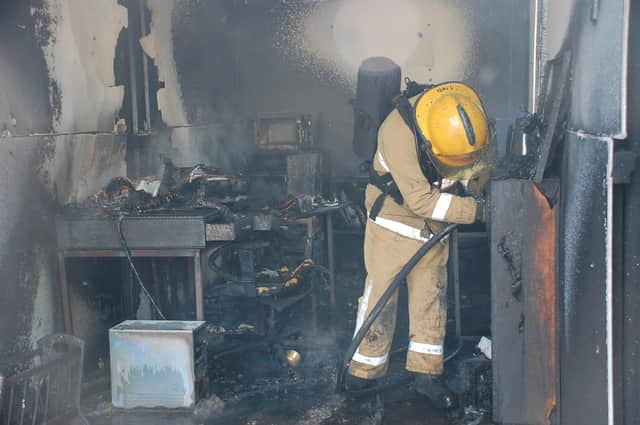 UCLan's Professor of Fire Chemistry and Toxicity Anna Stec is a member of the IARC committee who have just recently confirmed firefighting to be carcinogenic.
Anna Stec, the University of Central Lancashire's Professor of Fire Chemistry and Toxicity, is one of 25 leading scientists from eight countries who discussed the carcinogenic risks to firefighters at the IARC, meeting under a strict protocol in Lyon, from June 7-14.
Published in the Lancet on Friday, the group has found that occupational exposure as a firefighter is "carcinogenic to humans" (Class 1), where as the previous assessment, in 2007, classified it as "possibly carcinogenic" (Class 2b).
The IARC Monographs identify preventable causes of human cancer, and this classification can be applied to all types of firefighters, and both genders.
The types of fires, building materials, personal protective equipment, and roles and responsibilities of firefighters have changed substantially over time, for instance the increase of wildland fires in urban areas has changed the types of exposure that firefighters face.
Since the 2007 classification, many new studies have investigated the association between occupational exposure as a firefighter and cancer risk.
The 25 scientists discussed these studies, which included 52 cohort and case-control studies, 12 case reports, and 7 meta-analyses, finding a causal positive association between occupational exposure as a firefighter and mesothelioma and cancer of the bladder.
Positive associations were also observed for cancers of the colon, prostate, and testis, melanoma and non-Hodgkin lymphoma, although other explanations for these findings could not be ruled out.
Professor Stec, said: "As one of the 25 contributory researchers to the IACR statement, our research found that firefighters are frequently exposed to carcinogens that can have a serious impact on their health. In addition to fires and smoke, we have found high levels of cancer-causing substances (carcinogens) in fire engines, fire stations and personal protective equipment. In response, we developed our Firefighters Cancer and Disease Registry and Best Practice Report which are already in use in four countries, including the UK. Following this guidance, we hope that steps will be taken to keep firefighters safe and reduce the occurrence of cancer and other diseaseswithin this lifesaving profession.
"Members of parliament must call for an urgent debate on firefighters' health and cancer so that we can appropriately support those who work to save our lives."