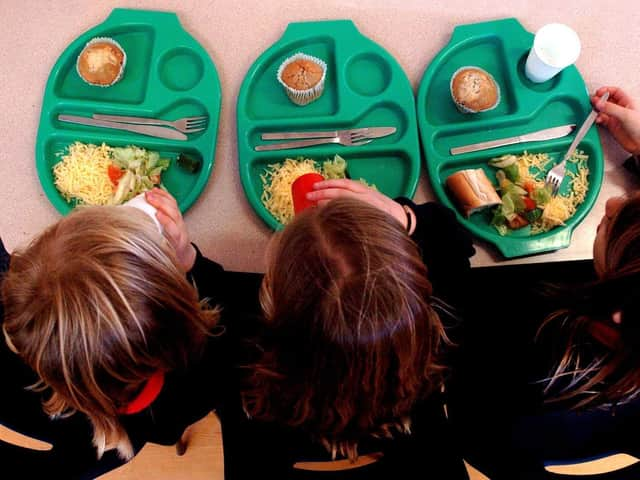 The school meals issue has been highlighted by the pandemic
The bid, tabled by Labour, was defeated by 322 votes to 261 - with a majority of 61.
It came after Number 10 ruled out pleas from MPs to support Manchester United footballer Marcus Rashford's campaign to guarantee meals during holidays for the poorest children as the pandemic's second wave hits.
He wanted the Government to agree to feed more than 1.4 million children during school breaks until Easter next year. Mr Rashford was successful in forcing a u-turn on the same matter earlier in the year.
Footballer Marcus Rashford
Last night he wrote on Twitter: "A significant number of children are going to bed tonight not only hungry but feeling like they do not matter because of the comments that have been made today."
Lancashire MPs voted as follows:
Sir Mark Hendrick (Preston, Labour)
Rosie Cooper (West Lancashire, Labour)
Cat Smith (Lancaster and Fleetwood, Labour)
Katherine Fletcher (South Ribble, Conservative)
Mark Menzies (Fylde, Conservative)
David Morris (Morecambe and Lunesdale, Conservative)
Scott Benton (Blackpool South)
Ben Wallace (Wyre and Preston North, Conservative)
Paul Maynard (Blackpool North and Cleveleys, Conservative)
Nigel Evans (Ribble Valley, Conservative) - could not vote as he is Deputy Speaker
Sir Lindsay Hoyle (Chorley, Labour) -could not vote as he is the Speaker
Preston MP Mark Hendrick wrote on social media after the defeat: "One of the founding principles of the co-operative movement was a commitment to tackling hunger and ensuring everyone had access to good, healthy food.
"We need to champion those founding principles of #foodjustice in #Preston & do what we can to force this Govt into another U-turn."
Fylde MP Mark Menzies said: "Since the start of Coronavirus, I have voted for £9 billion of additional welfare funding for families including an increase of £1,000 for those on Universal Credit, increased housing allowance, a £180 million fund to help families struggling with rent, and a further £63 million for local authorities to use on welfare assistance. A good deal of those measures were opposed by Labour.
"School meals were extended through summer because children had not been in school since March and families faced those additional food costs. Some 99 per cent of those children are now back in school getting those free meals.
"All of these measures are to help ensure families in need are looked after. This Government also extended the eligibility for free school meals to 50,000 more children than previous administrations."
Katherine Fletcher MP said: "Of course childhood hunger is something I care about hugely.
"I take the free school meal voucher scheme very seriously and I am glad it remains in place via the education system during term-time.
"However, I think it's best to use the welfare system to support children and families outside of school term.
"This is why I voted against the opposition ideas yesterday.
"We've put a lot of extra money into welfare to help make this happen, and support families direct.
"There is an extra £9 billion pounds in the Universal Credit budget with families getting an extra £1,000 per year.
"We think targeted support, with extra services via DWP, is the best way to support families on low incomes and vulnerable children, rather than free school meals when out of school.
"As well as this, Local Authorities have received more funding to ensure they can continue their food schemes for children such as breakfast clubs. £63 million extra has been given to local councils.
"Ensuring we have the outstanding schools in South Ribble, great jobs and welfare system that supports families is the best way we can support our children."
All other local MPs have been contacted for comment but have not responded.