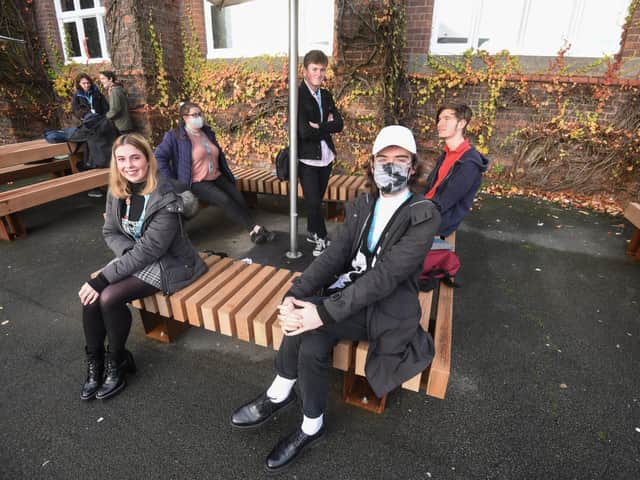 New landscaped area at Cardinal Newman College. Pictured are Emily Lumby, Molly Bollington, Tom Dobson, Billy Hotchkiss and Zachary Rigby.
For, while coronavirus restrictions have put paid to much of the usual daily routine, social distance learning has received a major pick-me-up for students at Cardinal Newman College in Preston.
The Larkhill college has just unveiled a new outdoor covered social space for students with benches and planting which can be used whatever the weather.
The college already boasts stunning grounds but with extra pressure on circulation space due to the pandemic, the outside spaces needed to be more efficiently designed to accommodate small and medium groups of students throughout the year.
Another side of the new outdoor space at Cardinal Newman College
Land Studio, a specialist landscape architecture, design and masterplanning practice in Chester, worked on the project with Flinders Chase, a civil engineering company based in Liverpool, to design the complex terrace improvement scheme.
With underground services plus the roots of protected lime trees to avoid, - and 4,000 students to navigate - the design includes reconstituted decking under a permanent canopy structure with steel seats and, took four months from design concept to completion.
College principal Nick Burnham, said the new area is already proving its worth to students, who attend college on a rota system.
He added: " The outdoor seating has proved very popular so far with students using it straight away, especially the large covered area, as it provides great shelter whilst the weather has been so unpredictable.
Whatever the weather- students can sit outside
"It offers students a great alternative to the indoor social areas, particularly under the current circumstances, as it allows them to spend time on campus between their lessons in a safe and socially distanced way.
"We look forward to the warmer months, when I am sure we will get even more use out of the seating. The seating fits well into the surroundings, compliments our grounds and gives us even more opportunity to enjoy the beautiful campus."
Land Studio founder and director Simon Richards said: "The coronavirus pandemic has shown how vital it is that students have safe spaces outside during their busy academic day.
"We are working with a growing number of schools, sixth form colleges and universities across the country to help them to create rich, vibrant and immersive spaces outside.
"These are spaces which work whatever the weather because Covid-19 is not going away anytime soon."