Success across the board at Blackpool Sixth
Blackpool Sixth students and staff are once again celebrating a "brilliant" set of A level and BTEC level 3 results.
Thursday, 13th August 2020, 11:52 am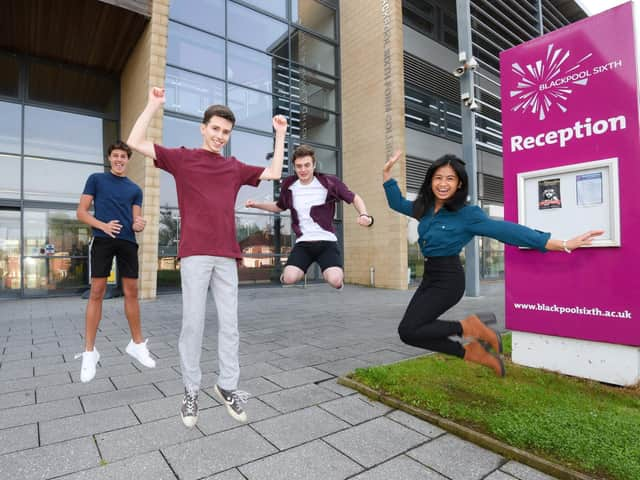 A Level results day at Blackpool Sixth Form. Pictured are Joe Clueit, Sam Arrowsmith, Luke Skelton and Camille Demegillo
A staggering 50 courses saw a 100 per cnet pass rate and overall high grades for Level 3 subjects have increased yet again and the upper high grades (highest possible grades) have also continued the upward trend of year on year improvement.
Bosses at the resort college are delighted with the results, which come on the backdrop of the continuing Coronavirus pandemic and the cancellation of the summer exams.
After a rigorous quality assurance process, the college submitted its subject grades for each student to the exam board, carefully following the instructions of the qualifications authority, Ofqual.
The exam boards then issued the final results following a national standardisation process.
College principal, Jill Gray said: "We really are thrilled with these wonderful results and are extremely proud of our students' achievements, especially given the turmoil and setbacks that they have faced over the past few months.
"The passion, commitment and resilience shown by both students and staff is exceptional and these results are a testament to their hard work and dedication during these unprecedented times. "
She added: "The students now have an excellent foundation for the next stage of their education or career. We wish them all the very best of luck for the future."