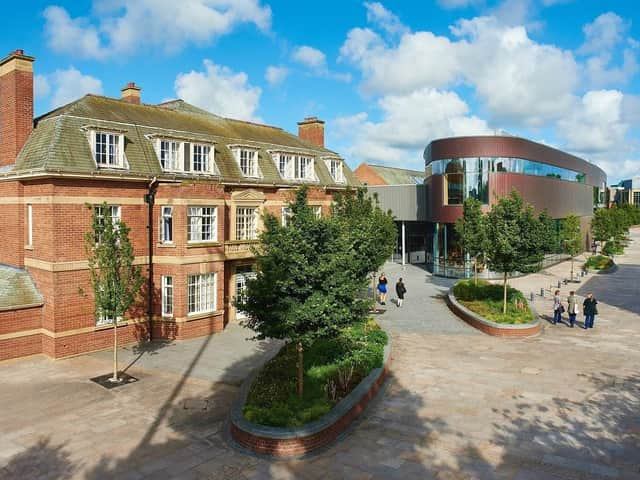 Edge Hill has huge interest for places
Some of the nation's world-leading universities like Cambridge have ruled out opening up their campus next year but institutions in Preston, Lancaster and Edge Hill say they are already planning how to deal with freshers in the autumn.
Despite their warnings that it will not be business as usua,l they say demand for places is still high, with one recording more applications than ever.
All campuses are currently operating online and formal graduation ceremonies have been put on hold for now.
UCLan is planning remote and face-to-face classes next year
The University of Central Lancashire, which has campuses in Preston, Burnley and West Lakes, Edge Hill and The Lancaster-based University of Cumbria are all planning a mixture of campus and online lectures.
The news comes as data reveals that a significant number of sixth formers could postpone going to university next year because they won't get 'the full experience' and many fear they won't get value for money.
A spokesman for UCLan said: "We can assure both returning students and new students that teaching and learning continues in the new academic year at UCLan as we look at a range of options so that we can physically return to our campuses in September.
"Our aim is to provide the best possible student experience whilst ensuring social distancing measures are in place, so we can deliver as much face-to-face teaching where possible with larger group sessions likely to be online.
"Whatever the format is, our key priority is the health and safety of both our students and staff.
"Like many other universities we have also taken the difficult decision to postpone our graduation ceremonies scheduled to take place in July 2020.
"However, planning is underway to deliver graduation ceremonies in December."
UCLan has a large number of overseas students as well as campuses in China, India and its own private university in Cyprus but said interest has not waned.
The spokesman added: "Interest from new applicants wanting to join us for the next academic year remains strong both from the UK and Internationally and we will use our resources to provide the best possible experience for all students."
Edge Hill University is also planning a mixture of remote, online and face-to-face sessions.
A spokesman there said: "We are currently making plans to be able to deliver some safe and responsible face-to-face teaching for all students from the beginning of next term, backed up by high-quality online learning channels, tutor-led with support from our professional services teams."
"We are still receiving applications and are experiencing higher demand to come to Edge Hill compared to last year.
"We are not experiencing a higher volume of requests for deferral this year and plan to run all our courses in September.
"The health, safety and welfare of our students and staff is our number one priority so we have regrettably taken the decision to postpone the graduation ceremonies scheduled for July 2020.
"We realise this will be a disappointment but we remain committed to ensuring students can celebrate their achievements so ceremonies will take place when it is safe to do so. All assessment for our existing students is currently being taken online and third year students will graduate as normal in July."
University of Cumbria pro-vice chancellor, Professor Brian Webster-Henderson said: "The way the world will look by then (September) is not completely clear to any of us, but we would like to reassure our staff, students and applicants that we are working hard on our plans and will keep people updated as our strategies for 2020/21 take shape.
"At this point in time, we continue to plan for the new academic year and look forward to welcoming existing and new students to our university.
"It's an exciting time to be starting university. We will be playing a major role in helping to drive economic recovery as we move out of the pandemic and our students will be part of this.
"We are following advice from the UK Government, and planning for a range of scenarios to ensure our academic year can start in September 2020."
Plans include induction weeks and teaching for courses as originally planned, though much of the induction activity will be online.
Teaching and assessment will be delivered through "blended learning" with all students undertaking a significant amount of their study online and only going onto campus for those learning activities which are essential to the course and which cannot be taught and/or assessed remotely.
Students will still have access to study space, the libraries and IT labs, and face to face support on the days when they are scheduled to have on campus programme sessions.
The University of Lancaster has not yet revealed its plans.