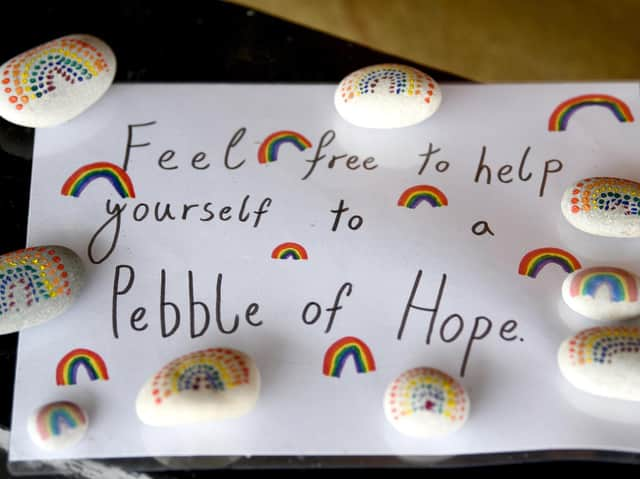 Pippa's message of hope
Pippa McGregor, decided on her Pebbles of Hope plan after her school ran a design project over the Easter holidays.
The Design and Technology challenge for AKS pupils included activities such as creating mini vehicles, photo displays, family games, den making, pebble decorating and computer aided design.
After toying with a few ideas, Year nine pupil Pippa decided to use her creative talents to design colourful rainbow pebbles which she has now placed along the seafront at Lytham to provide a bit of cheer and hope for walkers who come across them.
Pippa McGregor has painted pebbles for walkers in Lytham
She said: "We are all working together to help one another in this memorable time.
They ( the pebbles) are also in support of the key workers who work selflessly to keep us safe.
"I hope that people will see the pebbles and smile, adding a little colour and light to their world. They can take their rainbows home and carry a little reminder of joy and hope."
The 14-year-old added: "I was inspired by human tenacity and unity in times of hardship and struggle.
"Although we are separated by the need for safety, we are united by the things we do that bring us closer together, whether those be big or small.
"People are reaching out and connecting with old friends, making new ones and standing by the links we have already made. I hope we remember this time as much for what we have gained working together as for what we have lost. "
Pippa and her school plas at AKS have been working online but, she says, school has always encouraged extra-curricular activities.
This has continued throughout quarantine, even having it's own hashtag, #AKSAtHome.
AKS has been posting great ideas to stay active and interested without having to leave the house.