Priory pupils make the grade in style
Tanisha Gavigan has special reason to celebrate her GCSE results today
Thursday, 20th August 2020, 1:43 pm
Updated
Thursday, 20th August 2020, 1:44 pm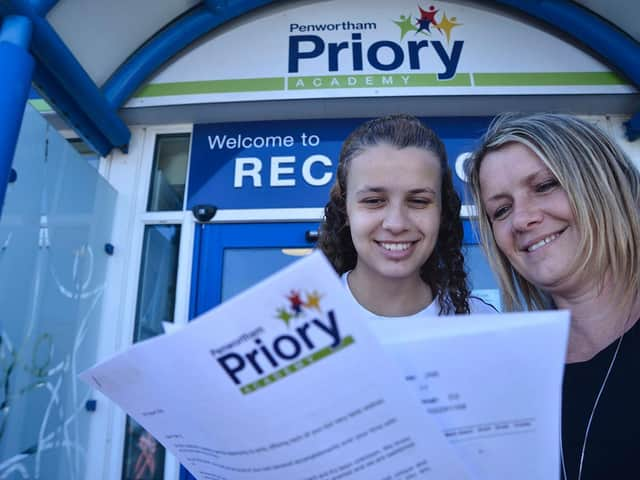 Tanisha and her mum
The Penwortham Priory Academy pupil suffered a serious brain injury at the age of 10 but had to overcome memory problems to celebrate her results.
Tanisha was involved in a road accident and was on a life support machine for four days and then spent months recovering in Alder Hey Children's Hospital.
Libby's results day went swimmingly
The youngster suffered a brain injury and a compound fracture of the leg among other injuries but today mum Laura Gavigan said she was extremely proud of the hard work Tanisha has put in to celebrate three Grade 5s, three Grade 4s and a pass at ICT.
Laura said: "She has had to work so hard. she suffers memory loss so she has to work twice as hard to remember things. Over the last 12 months she has worked at night, she has had a tutor and she has studied hard and we are so proud of her.
"The support she has had from Amanda Holland, the SENCo at Priory, has been superb."
Tanisha said: "The support I have had has been brilliant. I have been helped with little tips such as using post-it notes and notepads to remember things.
"I am pleased with my results, I was shocked most at my science result as I got a 5 in combined science, I didn't expect that.
"I want to study travel and tourism at Runshaw College, I want to do something exciting and fun ."
Fellow Priory student synchronised swimmer Libby Taylor has learnt sign language during lockdown and also celebrated strong GCSE results.
Libby, who has been part of the England Age Group training camps in synchronised swimming from the age of 13 and competed in the World Championships last year, got a grade 9 in history, three grade 8s alongside grades 7 and 6 in other subjects. She got a grade 8 in PE which was the Penwortham school's highest in the subject.
She said: "I thought I had failed my science so I was really pleased with a grade 6/7 in combined science.
"I am happy with my results, especially PE."
As she hasn't been able to get in the pool during lockdown, although has been able to do land-based exercises, Libby decided to make use of her time wisely.
She said: "There is a swimmer who is partially deaf and signs so I decided to learn it during lockdown. It is tricky remembering it but it's nice to be able to communicate with her."
Libby is going on to Runshaw College to study business, law, history and PE and will also take an A-Level sporting diploma in synchronised swimming at Loughborough University, which she was asked to do.
She is also taking an on-line coaching course in synchronised swimming.