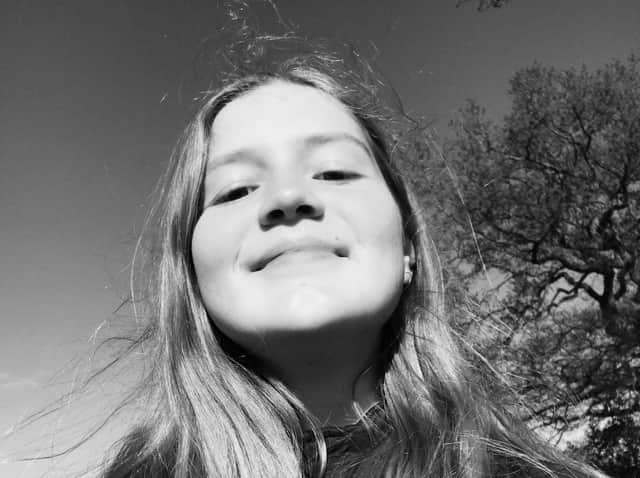 Talented artist Katie Williams has won first place in an international competition
The 14-year-old is a pupil at Archbishop Temple School in Fulwood, and was one of hundreds of youngsters across the world to enter the poetry, art, speech and song competition run by charity Never Such Innocence.
The competition, which focuses on conflict and its impact, is open to young people around the world aged from nine to 18.
Katie's' pencil drawing of three young boys wearing gas masks wowed judges and scooped firsdt place in her age group.
Katie's pencil drawing wowed international judges
In previous years the competition concentrated on keeping the events of the First World War in the minds of the young during the 100 year anniversary, from 2014 – 2018.
As a result of the international success of the project over those four years, it has expanded to include other conflicts.
Michelle Markham, head of art at the St Vincent's Road school said: " The theme this year was how conflict affects communities.
Katie's pencil drawing of three young boys wearing gas masks in World War 2 answered the theme perfectly I think."
She added: " It is an absolutely amazing achievement to win first place in an age category. Last year entries came in from 43 countries, so it really is international.
"Apparently, Katie's entry was the favourite not just with the panel of judges but also the organisation's founder Lady Lucy French.
"It is especially pleasing as many of our year nine pupils spent their lunchtimes finishing these pieces of work, Katie included, so we could meet the closing date when we began running out of lesson time with the school closure due to the Covid-19 pandemic imminent."
Young artist Katie said: " It shocks me to realise that children had to cope in the harness of the war, the image was so innocent and thought provoking I had to recreate it.
"Knowing that I have won first place in my age category makes me proud and inspired to do more artwork."
Archbishop Temple School is no stranger to success in the competition. The school had a third place winner in 2015 and the pupil, her parent and Michelle Markham attended the awards ceremony at the House of Lords.
Ms Markham also attend the finale at Buckingham Palace in November 2018, in recognition of the school's support of the project.