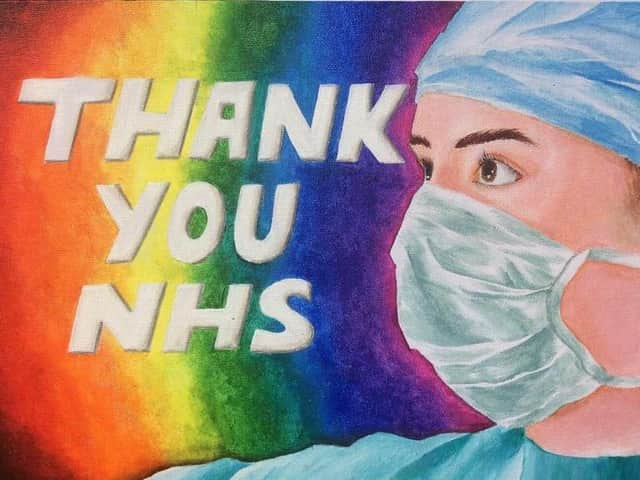 Colourful artwork by a 14 year old from Archbishop Temple High School now adorns the wall at the Royal Preston Hospital
Teenager Mary Tranter painting was spotted by a nurse who was so impressed she asked for it to be displayed in the hospital to brighten up the walls - just as the famous artist dedicated his own tribute to the NHS
The Archbishop Temple High School pupil had created a painting as a 'thank you' to everyone working and volunteering for the NHS during the Covid-19 pandemic.
Year 10 pupil Mary is currently studying for a GCSE qualification in art and design and has been very busy producing artwork over the past few weeks at home in Preston.
Mary presented her artwork to the Royal Preston Hospital
She said: " I wanted to pay respect to this country's heroes at the moment, and I knew the best way I could do that was through art.
"A lot of people have been putting rainbows in their windows in honour of the NHS, so I knew I wanted to incorporate the rainbow into the piece."
It was seen on the school Facebook page by nurse Emma Curwen, who wrote: "My matron and I were very impressed with Mary's painting.
"I am sure it will brighten many childrens' visits to the Accident and Emergency Department and who knows, may even inspire future artists. Thank you again for your support Mary."
Mary, who has been working on a number of different pieces of artwork since the UK went into lockdown, added: "Making art for others is one of my favourite things as it is, hopefully, something to make them happy and if I can put even a little bit more happiness into the world, I'll gladly pursue it."
Michelle Markham, head of art and design at the St Vincent's Road school said: " Mary has been producing some amazing artwork over the past few weeks.
"By strange coincidence another artist also donated artwork to the NHS , Banksy.
"Mary is in very good company."