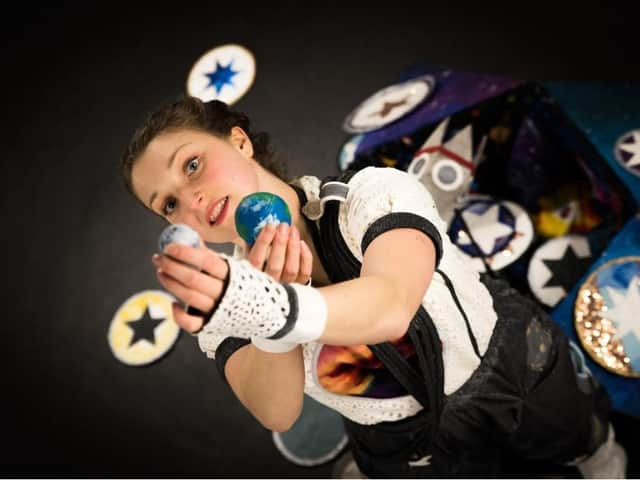 Lucy Sharkey with planets photo Rebecca Richards
Astronomy and dance are being combined in a new project aimed at getting primary school pupils more interested in the wonders of space.
The Into Our Skies: Space in Schools project has been put together by the Preston-based University of Central Lancashire and will use the power of dance to challenge traditional science-learning to develop the curiosity and excitement of scientific ideas among the county's youngsters.
It has been given a £15,000 grant from the Science and Technology Facilities Council Public Engagement Fund to help create a partnership between UCLan astronomer Dr Joanne Pledger, UCLanDance and Preston-based dancer Lucy Starkey.
Lucy Sharkey under the observatory Photo by Rebecca Richards
Between them they are creating interactive educational videos, which are currently being filmed at UCLan's Alston Observatory, and resources which will shortly be available to schools for free.
The project was inspired by the solo show 'Into Our Skies' created by Lucy and supported by UCLanDance.
Astronomer Joanne said: "The six-week programme includes three videos and additional learning materials which are aimed at Year 5 and 6 pupils.
"They are closely aligned with national curriculum guidelines meaning teachers can provide practical opportunities for pupils engage in topics such as The Moon, Earth and the Sun and The Solar System whether in their classroom or as a homework topic."
Lucy Starkey with the UCLan telescope Photo by Rebecca Richards
The other resources include tips on how to set up a dance class and additional information on 'the science bit', designed to help parents and teachers alike deliver high quality content, regardless of their background or level of science and dance knowledge.
Joanne added: "We know teachers have had a difficult year and they're trying to play catch-up on the months of teaching that were lost during lockdown so this free programme of informative, yet fun and engaging activities, can take the stress out of lesson planning and can combine the subjects of movement and science."
To get involved all schools have to do is sign up. The Space in Schools videos and resources will be made freely available to schools and parents. Interested teachers and parents can register their interest at https://uclan.onlinesurveys.ac.uk/ios-schools-registration and find out more about the project on https://www.star.uclan.ac.uk/2020/09/14/into-our-skies-space-in-schools/ They will be sent the resources once they are released.