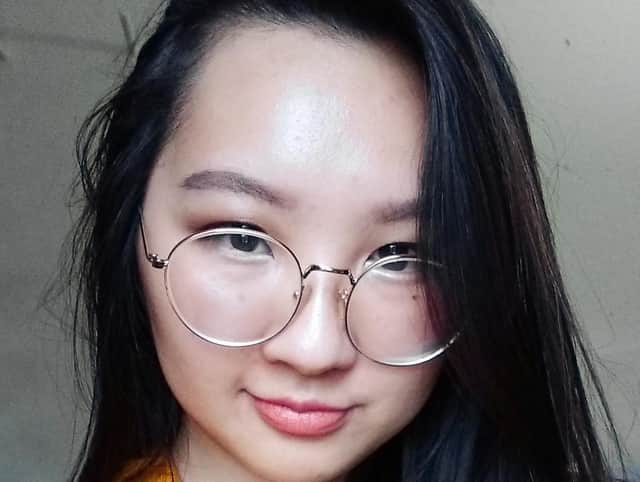 Michelle Lam and her friends made a lockdown video
A total of 129 final-year students from the University's  of Cumbria Institute of the Arts have teamed up with lecturers to work with Manchester web outfit 34SP to create an online gallery for their work.
The Lancaster-based university's Brampton Road campus in Carlisle, which has been a creative arts campus for 70 years, is usually transformed in a mega gallery by students completing an array of undergraduate and postgraduate courses. 
However, due to lockdown restrictions caused by the coronavirus pandemic this year's celebration has been moved online for the first time.  
Lorna de Mello, along with Michelle Lam and Thomas Thorne made a lockdown video which is showcased on 2020Vision
Entitled 2020Vision, it includes the work of more than 100 artists awarded degrees this year across 11 different fields, ranging from photography, graphic design and illustration to performing arts and games design. 
The digital degree showcase also provides the new graduates with the chance to extend their reach beyond normal geographic boundaries and reach a much wider audience, including potential employers and other industry professionals.
Senior lecturer Dwayne Bell, programme leader on the university's BA (Hons) Illustration degree helped to co-ordinate the project and said: "Coronavirus has cheated us out of our physical degree show exhibition, so we've gone online to celebrate our students' completing their creative journey at the University of Cumbria. 
"We hope people will enjoy browsing the online exhibition over a glass of wine or a cup of tea ."
2020Vision has gone digital
Among those featuring on 2020Vision are Michelle Lam and Lorna de Mello, who have been awarded first class honours degrees in film and TV. 
'After the Rain', their short six-minute documentary made together with fellow final-year student Thomas Thorne, provides a snapshot of the early days of the coronavirus pandemic, when strict lockdown measures were in place including only being allowed to go out once a day to exercise. 
Michelle, 21, said: "It was quite a challenge to create this film for our final project. We'd already worked on our original plan for a long while when we knew we were going into lockdown as our project was due to get underway.  
"We knew that it was important to capture this time in lockdown. When we were filming the regulations were that you had to be in quarantine, only going out once a day. 
"It meant we had to be very creative but very organised. Fortunately we were able to turn to people Lorna knew, including her mum who is a primary school teacher and her mum's boyfriend who is interested in psychology."