Lancaster University School of Mathematics offically opens in Preston
A new £8.5 million school delivering world-class mathematics education for 16 to 18 year-olds from across Lancashire has been officially opened in Preston at a special commemorative ceremony.
Watch more of our videos on Shots! 
and live on Freeview channel 276
Visit Shots! now
Last Friday (September 22), Preston's Mayor Yakub Patel cut the ribbon to officially launch the Lancaster University School of Mathematics (LUSoM) in front of hundreds of guests, including Sir Mark Hendrick, Lancaster MP Cat Smith, pupils and school staff.
What is LUSoM?
LUSoM, a collaboration between Lancaster University and Cardinal Newman College, is a specialist maths school housed in a brand new bespoke building situated on London Road, close to Preston's city centre.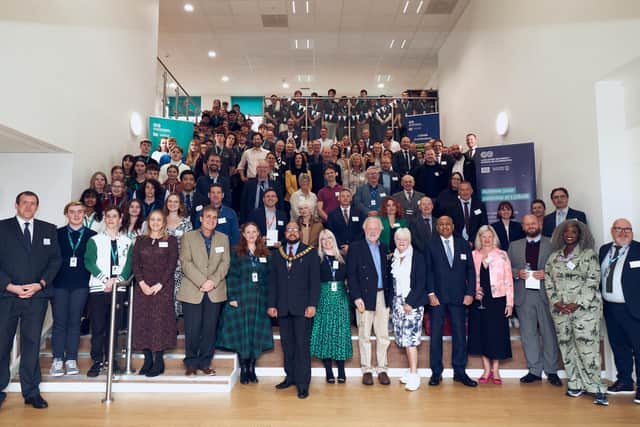 It has been teaching pupils at the site since the start of the year, providing a "modern and safe, inclusive and inspiring learning environment".
With a curriculum developed in partnership with academics from Lancaster University, LUSoM delivers "outstanding" Mathematics A-Level education to the most able students from across Lancashire and the North West.
Attracting students from all backgrounds, LUSoM is helping to raise aspirations throughout Preston and the wider area, unlock potential and propel young people on their journey towards successful careers.
What was said at the ceremony?
Professor Wendy Robinson, Pro-Vice-Chancellor for Education at Lancaster University said: "I am delighted to see the innovative way the School is strengthening the sixth form educational offering around mathematics across the County, making a very real contribution to our ambitions and aspirations for strengthening the skills pipeline for our future workforce in Lancashire.
"Lancaster University is very pleased to have worked in close partnership with Cardinal Newman College in the development of the School and our specialist academics are proud to have worked collaboratively with staff and students to enhance the curriculum and the broader learning experience."
Nick Burnham, Executive Principal of LUSoM, added: "It is a proud moment to be officially opening The Lancaster University School of Mathematics on behalf of Cardinal Newman College and Lancaster University. This school will provide a truly special environment where talented mathematicians can flourish by forming their own community and studying a bespoke mathematical curriculum. The Maths School will build on Cardinal Newman College's reputation as a centre of excellence for post 16 maths and science and also benefit from the support of a world class HE provider in Lancaster University. Exceptional mathematicians, from all communities across Lancashire will receive outstanding support while studying in an inspiring environment."
Peter Tiltman, the head of the school, said: "I'm absolutely delighted that we have such amazing facilities here in Preston, all dedicated to the study of maths and science. We are looking for young people with an aptitude and a passion for maths and science to come and study with us, benefitting from the world-class teaching we offer allied with the support of Cardinal Newman College and the links to Lancaster University. More than just providing the education for our own students though, we are committed to the outreach that we do, working with local secondary and primary schools to identify talent from a young age. We work with students across Lancashire to nurture their potential and develop their interest in mathematics.
"With the growth of local businesses and industries, this area is ripe for developing and fostering STEM graduates of the highest calibre. The graduates of this school will be in high demand with plenty of job opportunities on their doorstep."
What is the building like?
Designed by Pozzoni Architecture, with Galliford Try as the design and build contractor, the school brings a unique look to the Preston landscape with the four-storey building's exterior blending a mixture of brown and black brickwork, glass, a distinctive bronze metal cladding and including a rooftop terraced area for students to relax and study looking out onto the Preston cityscape.
The interior of the school has a three-storey atrium providing open learning for the students and a welcoming environment for all visitors. A specially designed, retractable 400 seat auditorium has been included within the building to host lecture style sessions in addition to other events and masterclasses.
How to apply or find out more?
More details on the application process, and events and activities, are available on the school's website www.lusom.ac.uk.
Prospective pupils and parents interested in finding out more about life at LUSoM, including the facilities and curriculum are invited to attend an open day on Saturday 14th October.
LUSoM is governed by the school's trust – the Rigby Educational Trust. Strong links to encourage mathematics and knowledge sharing are being forged with Maths Schools across the country, including in Liverpool, Exeter and Kings College London.