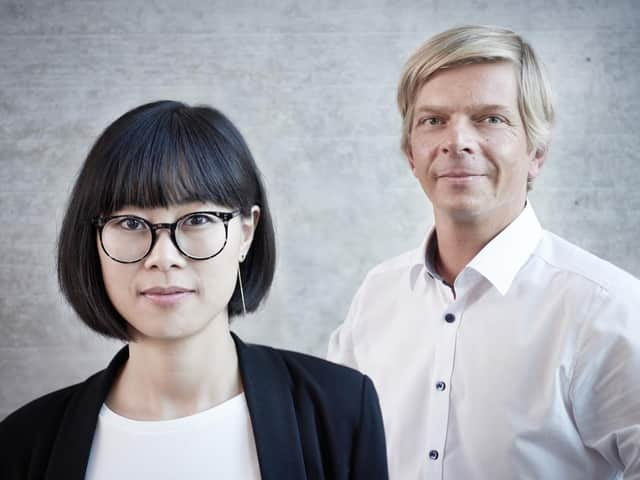 ProfFlorian Bauer from Lancaster University Management School (pictured right) andDr Mai Anh Dao from MADiscover.
A webinar series, organised by Lancaster University Management School's Prof Florian Bauer and Dr Mai Anh Dao from MADiscover, is investigating the issues facing companies large and small around Mergers & Acquisitions (M&A) and corporate strategy.
The events, organised through M&A Review and MADiscover, feature expert researchers and practitioners from across Europe, providing an insight into the issues affecting businesses.
They offer small firms in Lancashire, Cumbria and across the north west the chance to express their concerns amid the Covid-19 pandemic, but also to hear the issues facing other companies, large and small, and to learn from expert researchers and practitioners.
High-ranking officials in Siemens, EY Germany and Swedish manufacturing firm Graenges have passed on their knowledge and experience already during the webinar series, along with representatives from PwC, AL-KO Vehicle Technology and other smaller and medium-sized firms.
"These webinars are not just suitable for big firms," said Prof Bauer, who is editor of MA Review, a practitioner-oriented Mergers & Acquisitions journal.
"The issues are relevant across the board in business, from small and medium-sized businesses in Lancashire, Cumbria and the North West, up to those global corporations.
"Mergers and Acquisitions (M&A) are not just a topic for large corporations. The major share of M&A transactions come from mid-sized firms, and with the current situation in which businesses find themselves, a lot of smaller firms can become an acquisition target."
An upcoming webinar on Thursday, July 2 will focus specifically on the effects of the Covid-19 pandemic on acquisitions and mergers, at a time when regional and local firms could find themselves the target for takeovers. There is an online survey that can be filled in ahead of that session, providing detail on companies' views on the pandemic and its effects.
Businesspeople from the UK, Germany, Austria, Switzerland, Czech Republic, Norway, Sweden, Finland and France have attended sessions to date, giving a continent-wide perspective on events and how companies across Europe are responding to the current situation.
"We have offered one Covid-19 seminar already to discuss the consequences for M&A, and there will be another to discuss these issues as well," added Prof Bauer.
"We carry out surveys to get a quick insight of how companies feel at the moment and to help us decide on the main topics to be discussed. We will present the results and the numbers, as well as what managers have told us to make it much richer and to help participants identify with the statistics.
"In the first Covid seminar we had, it was all a shock for everyone, but now this has turned into a situation where companies need to manage the crisis. We always try to highlight best practice, as well as the wrong ways, and there are always key takeaways for all those involved."
Lancaster University students, who can also sign-up for the webinars, will benefit from the series as well, with up-to-date practice being transferred to the classroom by Professor Bauer for his courses.
"We try to make our teaching both research informed and also practice-informed. It is important that we are able to do this, because students see that what we are talking about is up-to-date and of relevance to practitioners," said Prof Bauer. "They also see how firms apply things in real life. It is beneficial for businesses and students alike."
Businesses and students interested in signing up for the webinar series, or for individual events in the series, can do so online here: https://www.madiscover.com/webinar
Companies and entrepreneurs can fill in the survey on business responses to the Covid-19 pandemic here