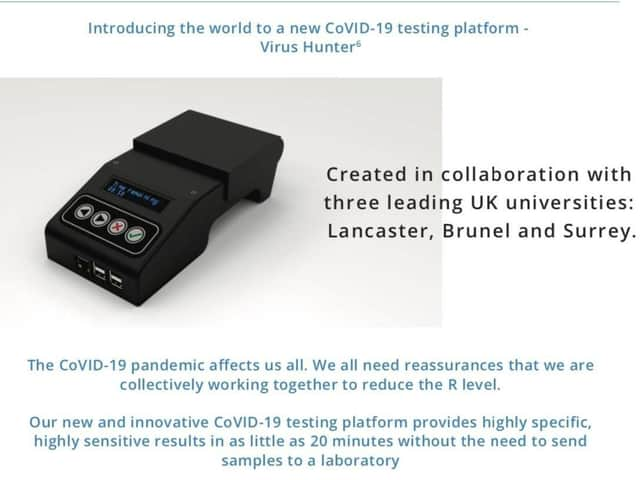 Lancaster University helps develop a new smart-testing device for Covid-19.
Incorporating artificial intelligence, image processing, molecular virology and vast experience in the applied technologies, researchers at Lancaster University with Brunel University London and the University of Surrey have developed an innovative device to detect Covid-19 in 30 minutes using an intelligent smartphone application.
The science behind the device has been tested in the Philippines to check chickens for viral infections. The team has adapted it to detect Covid-19 in humans and is talking with backers to get it urgently mass-produced.
The current system is capable to perform diagnostics at any location with very minimal training.
The researchers believe that the device would be operated by ambulatory care professionals, nurses, and biomedical scientists.
It would also let people self-isolating test themselves and health care workers test patients to help slow the spread of the pandemic and ease the burden on the NHS.
"The team strongly believes that with our combined expertise, we will be able to make this device and its associated system available for adoption and take a step closer to beating Covid-19," said Molecular Virologist Dr Muhammad Munir at Lancaster University.
The battery-operated and hand-held smart phone-linked device is highly cost effective (£100/device) and easy to use.
Developed in collaboration with Lancaster University and University of Surrey, it works by taking nasal or throat swabs, which are put into the device.
Then in 30 minutes, it can determine if someone has Covid-19. The samples don't need to go to a laboratory and the same device can test six people at once at a cost of around £4 per person.
The team is also working on adding a tele-medicine functionality to the mobile app which can control the device, track the user's movement with government permission and contact anyone who has had a close
The idea is to try and make it cheaper than other tests so it can be used worldwide at home, in GP surgeries, hospitals and workplaces.
Once infection is identified, the intelligent system will track down all people who had close contact with the newly identified patient in the last 14 days, alert them about the threat of having Covid-19 and advise them what to do via the mobile phone app.