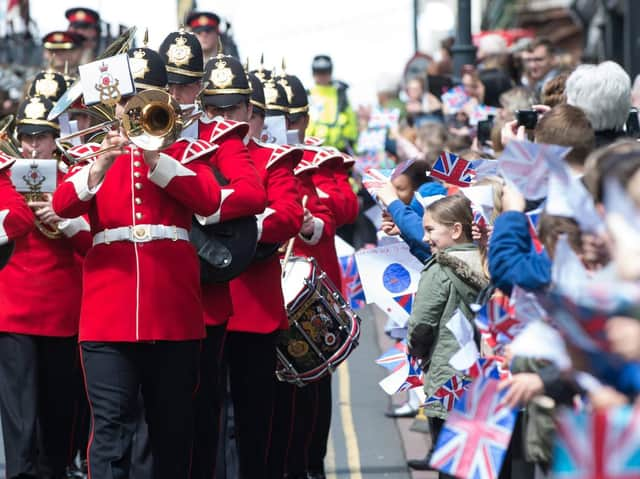 An armed forces day parade through Lancaster. Picture: Cpl Michael Strachan, Army photo.
The special Armed Forces Covenant encourages universities and other organisations, including businesses, to develop firm links with and support the Armed forces community including serving personnel (regular and reservists), veterans and military families.
The University had been due to sign up to the Covenant this month as part of its first annual Armed Forces Day celebrations, which would have included an afternoon tea party on campus.
However, coronavirus restrictions meant the celebrations to mark the historic agreement had to be postponed.
Instead the University came up with an exciting package of online activities in which people could participate.
These included a live webinar on Saturday (June 27) focused on the people of Lancaster in and after WWI.
There is a specially-themed, downloadable resource pack for families to complete at home.
And a video, which was released on June 27, captured a mix of real-life stories from staff and students at the University who have served in the armed forces, still serve in the armed forces or are the family member of someone serving in the armed forces.
Lancaster University Honorary Graduate and TV Presenter Dan Snow and the Eden Project International's Si Bellamy provided clips for the video.
In real terms the Covenant means that Lancaster University agrees to promote itself as an 'Armed Forces friendly organisation' and commits to an array of services and support.
In practical terms this might mean, for example, guaranteed interviews for suitably qualified service leavers for jobs at the University and support for reserve service and cadet force adult volunteers allowing time away (up to ten days' unpaid leave per year) for training.
 Promoting the opportunities of Armed Forces careers to students
 Offering support to cadet detachments in the local community wherever possible
 Endeavouring to offer a degree of flexibility in granting leave for service spouses and
partners before, during and after a partner's deployment
 Providing pro-bono legal support through Lancaster University Law Clinic to serving
personnel (and their families), service leavers (and their families) and reservists
Vice-Chancellor of Lancaster University Professor Andy Schofield said: "In recognition of those serving their country and forces' veterans and their families, Lancaster is proud to work in
partnership with the Armed Forces.
"Our approach to social mobility and widening participation is underpinned by a belief in creating a culture of inclusivity and providing all students, regardless of their background or individual barriers, with the opportunity to succeed.
"The covenant is a pledge that we acknowledge and understand that those who serve or who have served in the armed forces, and their families, should be treated with fairness and respect in the communities, economy and society they serve with their lives."
Major Gary Turner, Second in Command 4th Battalion The Duke of Lancaster's Regiment on behalf of Defence and Headquarters North West, said: "This Armed Forces Covenant recognises the commitment of Lancaster University to the Armed Forces, Cadets, Service leavers and families, and marks the beginning of a strong partnership that will develop and expand over the coming months and years.
"This is a ground-breaking Covenant between a nationally and internationally recognised University and the Armed Forces Community."