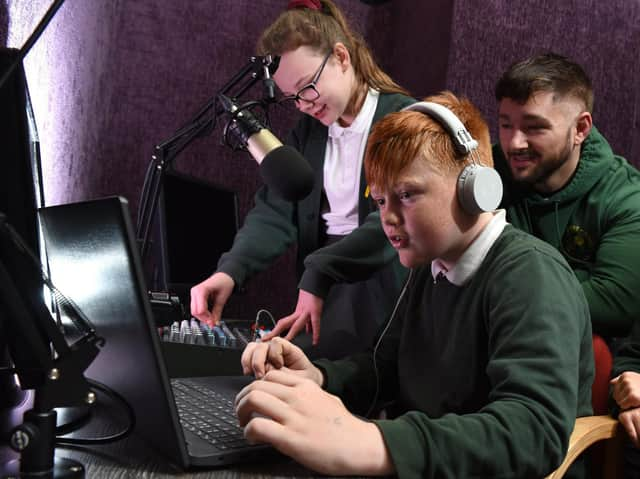 Ingol Community Primary School teaching assistant Nick Pearce works with pupils in the new radio studio Photos by Neil Cross
The Preston suburb is the base for the city's newest radio station - courtesy of local primary school pupils.
Youngsters at Ingol Community Primary have joined forces with Preston based Beat 103 to produce a weekly podcast, which had it's first airing at the weekend.
The station's chief executive Leroy Allen ( LJ),, has joined forces with the Whitby Avenue school to produce a radio show segment which will be aired on Saturday and Sunday mornings from 8am-9am
Isla takes to the airwaves in the new studio at Ingol Community Primary School
With the help of teaching assistant Nick Pearce, the children will write, produce and record a podcast to be broadcast each week. Each show will have a set theme and the youngsters have been tasked with research this and writing the show themselves.
The school is hoping to involve as many of the four to 11 year olds as possible, giving them a chance to showcase their writing talents as well as working with radio DJs and producers.
Headteacher Naomi Parkinson said the idea was conceived during the first national lock down when the school was open to key worker families.
Staff reached out to the radio station for support with some of their activities and it grew from there.
Once school re-opened an unused store room was converted into a recording studio and the rest of the pupils started working on developing the podcast idea.
Naomi said the whole school is excited and added: : "We have had an old store room transformed in to our very own recording studio which looks fantastic. Beat 103 have been amazing with advising and completing the works for us.
"This all started off during lock down when our key worker and vulnerable children attended school. We carried out many activities within the local community and reached out to Beat 103 to advertise the work we were doing. From this, the idea evolved and the dream is becoming a reality in relation to inspiring children and further developing community cohesion."
She also paid tribute to both Home Indulge catering and Sheds 4 U , both based in Preston, who have sponsored this venture alongside the station to help pay for the equipment needed to ensure it is a success.
The headteacher added: " This is a brilliant example of our school vision coming into fruition. Dream, Inspire, Achieve."
Leroy Allen added: " We at Beat 103 are delighted to be working alongside Ingol Community Primary School in this fantastic opportunity to discover and explore new talent."