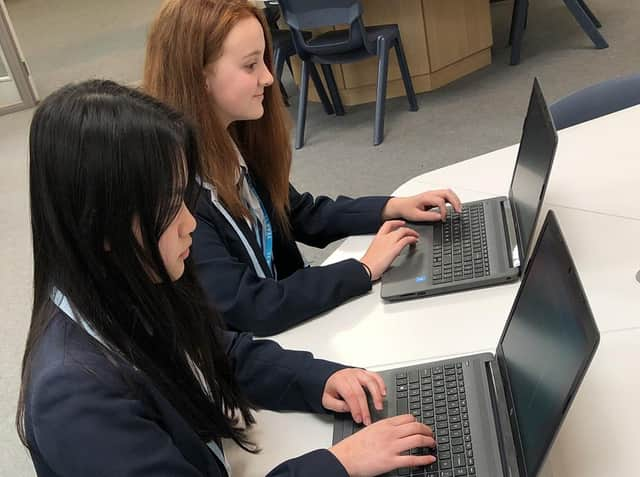 Fulwood Academy pupils on their laptops
Fulwood Academy has bought hundreds of new laptops and is having broadband installed in the homes were pupils' don't have it to make sure they can keep up with their studies.
The Preston school is using a grant from the Dunstone Education Trust to pay for the scheme, aimed at enabling pupils across the age range to have access to the internet away from class.
Dave Lancaster, principal at the Black Bull Lane academy said: "Our students and community were amazing during the lockdown earlier this year.
"With this investment, we are able to take a very important step towards ensuring our students will continue to have access to a high level of education – whatever happens.
"The reality is that as a school we need to help our students prepare for all eventualities in the future.
"With the continued potential to have to ask students to do things like self-isolate, it is really important that they are able to access the internet so that their learning can continue."
He added: " This is more than about home learning though. It is about building a community.
"We hope that this support will help families engage in parents evenings, support other members of the household with school work and ensure that communication between the school and our community is strong."
Joan Dean, chairman of the Dunstone Education Trust, said: "This is a significant investment as supporting our students is at the heart of what our Trust does. We will continue to strive to make sure all our students have every possible opportunity available to them. "
She added: "This is more than about protecting our students over the next few months. We want this investment to help our school to become a beacon of technological excellence that continues to place the utmost of importance on student development."
The scheme comes as the Government came under fire from teaching unions over funding for the provision of laptops for disadvantaged pupils while putting a legal duty on schools to provide remote learning for those forced to isolate.
Fulwood Academy has created a virtual open day for prospective Year 7 students. To find out more, visit www.joinfulwood.co.uk.