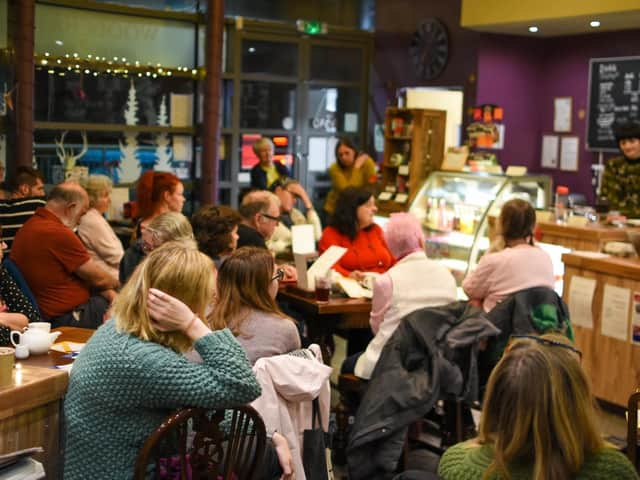 Green Living Chorley meeting at Woodchats Coffee Shop.
"The fact that the impact was now relevant to my children's lifetimes resulted in this duality of having a newborn in my arms and it being the best thing ever, but also thinking 'when my children are my age, are they going to want to risk bringing another generation into the world?'
"It frightened the living daylights out of me," she added. "It was overwhelming, so I had to do something about it."
With Emma having met her friend Rachelle Bell on Instagram where they crossed paths due to their shared interest in local green movements, the pair established Green Living Chorley, a Facebook group to allow like-minded people to forge not only a strong sense of community spirit but also cultivate an environmentally-friendly coalition in the town.
Green Living Chorley founders Emma Kilburn (left) and Rachelle Bell.
"Like a lot of people, I'd lived most my life thinking I was quite environmentally conscious - turning lights off, not running the tap off while brushing my teeth, peeling the plastic window out of envelopes," said Emma, 37. "But I just don't think I was aware of the extent of the environmental issues we're facing.
"Rachelle and I met on Instagram - I was interested in the Slow Living Movement and Rachelle was interested in the Zero Waste Movement," she added. "Both relate to sustainability and a green living lifestyle.
"Following and commenting on the same Instagram accounts, we realised we both lived in Chorley and started exchanging messages about our common interests.
"We started the group to build a local community of like-minded people [and] envisaged members sharing knowledge and becoming active in green projects," explained Emma, who is from Bolton but who has lived in Chorley since 2012. "The initial online response was good and our first group meeting in March 2019 was attended by six people, including myself and Rachelle.
GLC's first ever meeting in March 2019 at which six people were in attendance.
"You might think we would be disappointed but we were overjoyed: our only aim was to grow each month," said Emma, with 40 people turning up to the second meeting and the group now sometimes running out of chairs at Woodchats Coffee Shop where they meet on the third Monday of each month.
"We welcome people at every stage of their green journey: new members often tell us that they had no idea there were so many like-minded people and green projects in Chorley. Every small change to live greener adds up to a big difference collectively."
The group now hosts guest speakers, organises fundraisers, and is getting involved in bigger environmental projects with other initiatives. Over the festive period last year, also hosted a free Christmas Party at which over 60 people enjoyed a vegan Jacob's Join buffet to which everyone brought their own plate, cutlery, and cup to reduce waste.
Gearing up for their Summer Eco Fair on Saturday, August 1st at Chorley Town Hall, GLC is also running several volunteer-led projects throughout 2020, including a Community Fridge, an Eco Sewing Group, a Cloth Nappy Library, a Eco Kids Club, an Earth Hour, an Outdoor Ramble, an Eco-Library of books on green topics, and a Clothes Swap.
Last month, members also teamed up with Treesponsibility to plant over 1,000 trees in Chorley over the course of a single weekend.
Put bluntly, Green Living Chorley is on a mission.
"A lot of people are talking about eco-anxiety and how important it is to feel supported by the group: together we feel like we can make more of an impact," explained Emma, who works as a solicitor at Keoghs and who has also been vegan for around two years or so.
"A lot of our members who are looking at their children or grandchildren and thinking 'what is the world going to look like?'," said Emma. "I want to be able to look my kids in the eyes in 30 years' time and say 'I did what I could'."