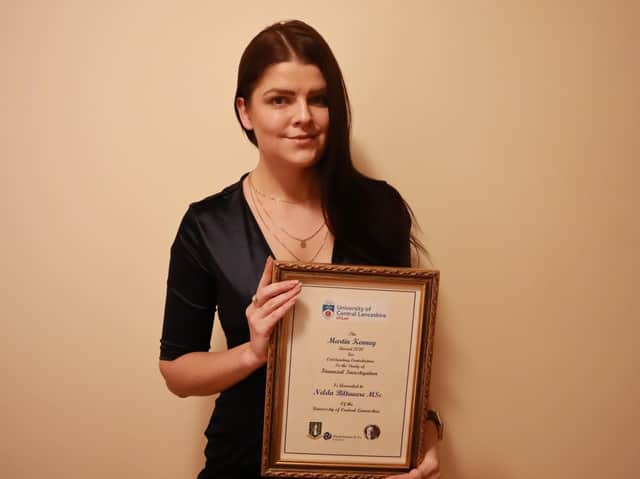 Nelda Biltauere who has received the inaugural Martin Kenney Award for Outstanding Contribution to the Study of Financial Investigation.
The inaugural Martin Kenney Award for Outstanding Contribution to the Study of Financial Investigation has been presented to recent graduate Nelda Biltauere.
The payments and fraud manager for fashion retailer Boohoo completed an MSc in Financial Investigation at UCLan's prestigious School of Justice last year.
The award, named in honour of one of the world's most accomplished anti-fraud lawyers, will be presented each year to one outstanding graduate from the School's MSc Financial Investigation course.
Kenney, who runs a specialist asset recovery law firm in the British Virgin Islands (described by WIRED magazine as "the world's sharpest fraud busters"), said he was delighted to join forces with UCLan and to be able to encourage students researching a topic close to his heart.
He said: "I'm delighted to present the inaugural award to Nelda for her excellent work. She has done really well to recognise that financial investigation isn't a subject in which you can obtain a Master's degree and then rest on your laurels.
"I have been at the sharp end of investigating fraud and asset recovery for 30 years now and I am still constantly learning. That's why it's so important to encourage, recognise and train the next generation of fraud fighters, those like Nelda entering the profession right now.
"She is to be congratulated for her hard work in winning this award and hopefully our professional paths will cross in the future."
Nelda, originally from Latvia, said: "I'm beyond honoured to receive the Martin Kenney Award 2020 for my contribution to the study of Financial Investigation. 2020 was a challenging year, but we've also seen some substantial developments and initiatives tackling financial crime.
"I believe it is vital to ensure that we keep up to date with the constantly changing aspects of financial crime threats and sharing this is very important to encourage the change.
"I am grateful for being able to contribute to the University of Central Lancashire Alumni network group and very pleased to receive this recognition of one of the world's leading lawyers."
Dave Brian, School of Justice Financial Investigation Course Leader, added: "I'd like to congratulate Nelda on winning the prestigious Martin Kenney Award. She thoroughly deserves it after making numerous contributions to our private financial investigator LinkedIn page.
"We have students from across the globe who undertake our degree courses, and we are proud to be doing our bit as a School to spread and enhance the reputation of our university. Securing Martin Kenney as our award sponsor is a real honour, as he is globally renowned in his field and regularly cited by our students in their essays and dissertations."