David Attenborough surprises Penwortham student and promises to read her dissertation
A Penwortham university student received a surprise letter from the famous broadcaster and naturalist with a promise that he would read her dissertation.
Thursday, 29th April 2021, 4:06 pm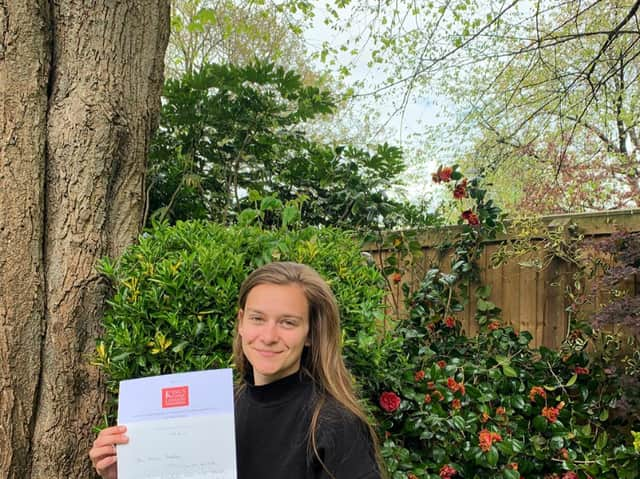 Heather Needham from Penwortham received a fantastic surprise in the post when Sir David wrote back to her.
Heather Needham is in her final year of studies at King's College London and has now completed her dissertation on deforestation.
But the Geography student didn't stop there and decided to send the research to Sir David Attenborough
"I sent him a letter and a printed copy of my dissertation in the post last week," Heather said.
Heather received a letter from Sir David Attenborough after sending her dissertation about deforestation to him.
Sir David receives around 70 letters a day so Heather was not expecting to hear back from him.
She was delighted when he replied a few days later and praised her for her work.
"I was ecstatic to find the letter from him in my post box!" Heather said.
"I never receive handwritten letters so when I saw the letter in my post box, I had an inkling it could be from him..."
The aspiring Geographer decided to write about the links between conflict and deforestation in Colombia for her final university project.
"Over 50% of Colombia's territory is covered by forests, which are cleared at an alarming and unsustainable rate," she said.
In 2016, the Colombian government aimed to end fifty years of conflict when it signed a ceasefire deal with FARC rebels (Fuerzas Armadas Revolucionarias de Colombia).
Heather hopes that her research will help to contribute to knowledge on deforestation and protecting forests post-conflict.
"Attenborough's work documents the impacts of deforestation on our planet," she said, "I thought he would be interested in my dissertation research that details the alarming rates of
deforestation occurring within post-conflict Colombia.
"I thought that it was the perfect opportunity to send him my dissertation, which is focused on one of the world's greatest environmental challenges."
Heather is a big fan of the veteran naturalist and broadcaster's work, including his most recent book 'A Life on Our Planet', which explores the human impact on rain forests.
"Sir David Attenborough is the world's greatest environmental advocate who has inspired millions," said Heather.
"To have my dissertation research recognised by him is incredible - A geographer's dream!"
The handwritten letter reads:
Thank you for your letter.
Your dissertation looks most interesting and valuable and I know I shall read it with benefit.
Thanks for reading. If you value what we do and are able to support us, a digital subscription is just £1 per month for the first two months. Try us today by ​clicking here.