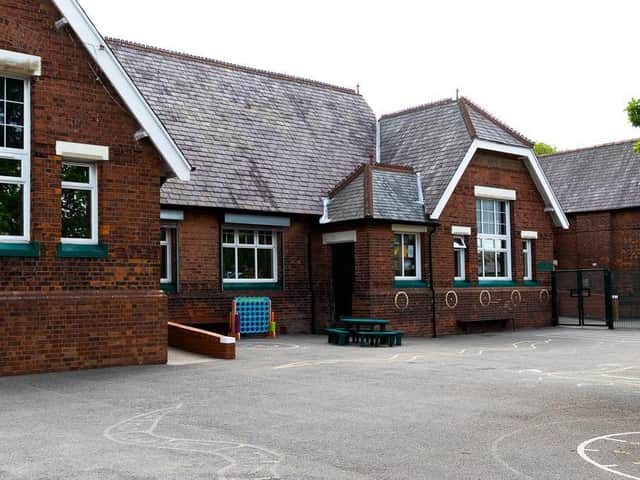 Cop Lane Church of England Primary School today
The photos of Cop Lane Church of England Primary School have been shared with pupils, parents and teachers.
One of the oldest was taken in 1903 and shows a class posing next to their teacher outside the school.
The school was built almost 200 years ago and more recent photos from the late 1980s and 1990s show school buildings being remodeled.
Extracts from the school log books
Headteacher Ian Ashmore said: "We have spent two weeks focusing on family history and the history of the school.
"We found all the old school log books and we have pictures of the remodeling of the school in the late 80s which included a new hall."
"The children have really enjoyed finding out about the school and finding out about their own family history.
"They've got a lot out of it and there has been lots of historical inquiry."
A JCB on site and building works during a school remodel
School log books show that it was built by the Penwortham Grammar School Foundation in 1826.
A new school building was constructed in 1877 at a cost of £2,943. 19 shillings and 7 pence which would have been approximately £184,319.59 in 2017 terms.Later that year, Mr John Hall was appointed as headteacher and an 1879 school inspector's report said the newly occupied buildings were 'good in all respects'.
Two new classrooms were added to the school in 1933 and an additional classroom and canteen were added in 1946.
Phase one of a school remodel was completed in 1966 and phase two started in 1989. Building work was completed in 1990.
Remodeling at the school in the latter part of the 20th century
More pictures show the school being remodeled
Construction workers at the school
The school being remodeled
Inside the school hall during a remodel
A historic photo of the school playground
Cop Lane school children with their teacher in 1903