Celebrating National Teacher Day: Honoring the shapers of our future
National Teacher Day is an annual occasion that provides an opportunity to express gratitude and appreciation for these remarkable individuals.
Watch more of our videos on Shots! 
and live on Freeview channel 276
Visit Shots! now
Teachers play a pivotal role in shaping the future of our society. Their dedication, passion, and unwavering commitment to educating and inspiring students make them the unsung heroes of our communities.
Teachers invest countless hours, both inside and outside the classroom, to ensure that their students receive the best education possible. National Teacher Day serves as a reminder to acknowledge and appreciate their dedication.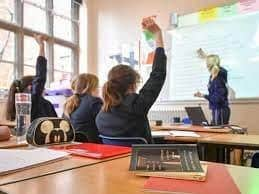 Teachers not only impart knowledge but also inspire and motivate their students to reach their full potential. They instill a love for learning that can last a lifetime.
We asked our readers to help mark the significance of National Teacher Day and the profound impact teachers have on our lives by giving a shoutout to the teachers that made the biggest impact to their lives.
Nichola Anderson said: 'Mr Graham who's sadly passed from Corpus Christi, brilliant teacher and respected his pupils.'
Tamara Pettit: 'Liindsay Wade not a teacher as such but you definitely helped me at school and I'm very grateful for that.'
Vera Baldwin said: 'Miss Hornby who taught me to read, and Norman W Benn my primary school headmaster.'
Steve Wattam said: 'Pete Pounds geography teacher, got me into climbing, weight lifting and home brewing, set me off on the straight and narrow, one of the few that had any faith, many thanks.'
Nicola Sarah: 'Miss k gregson at lha she's an absolute legend. You honestly couldn't ask for a more real teacher. She cares about all the kids and the families she supports and goes above and beyond in her role. She is the kindest teacher and devotes her life to the kids she looks after. She's honestly saved many kids lives and we all appreciate her.'
Helen Sergeant: 'Lynn Huntbatch was the most amazing teacher always guiding us telling us we could achieve whatever we wanted and that just being us was always enough.'
Charlie Knowles said: 'Bill Humphreys one of the best there is, always there for anyone also one of the soundest teachers there is.'
Lauren-Paige Jones said: 'Liz Wilson I seriously wouldn't of got my career if she hadn't of helped me and be so patient at school with me she got me through my GCSE she had faith in me thank you.'
Colin Williams said: 'Mr Hopkins,sport teacher,many words of wisdom,(christ Church mixed school) sadly long departed.'
Ron Mckenna said: 'Martin Wilson Graham Fletcher 2 inspirational teachers who made PE and Drama 2 thoroughly enjoyable subjects.'
Let us take this opportunity to express our gratitude and appreciation for the teachers who shape our future, one lesson at a time. Remember, every day is a good day to thank a teacher, but on National Teacher Day, we can make it extra special.