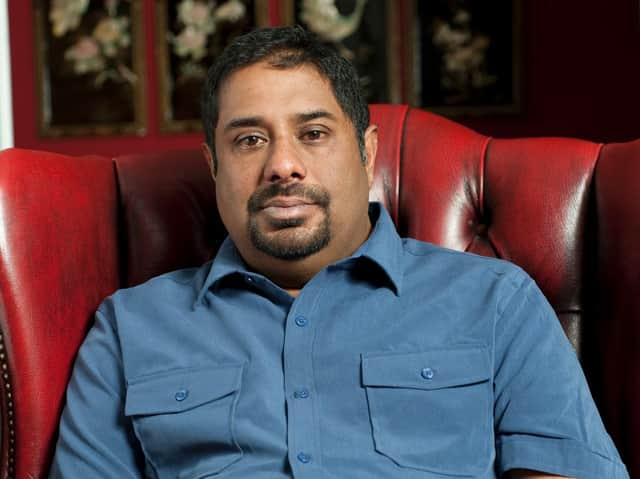 The late UCLan creative writing lecturer Dinesh Allirajah
When popular creative writing lecturer and author Dinesh Allirajah died in 2015 the University of Central Lancashire and Comma Press, where he had been a director, wanted to pay tribute.
So, two years later they set up the Dinesh Allirajah Prize for Short Fiction . Open to both published and un-published writers, the prize aims to seek out the best established and up and coming voices in the form in his memory.
Self-publish poet JE Rowney has been revealed as this year's winner, chosen by a panel of judges including UCLan's senior lecturer in English literature Dr Robert Duggan, prolific short story writer Martyn Bedford and Northern Soul's literary editor, Emma Yates-Badley.
The theme of this year's Dinesh Prize, Artificial Intelligence, was inspired by Dinesh's short story The Longhand Option from Comma's Beta-Life anthology, which paired authors with scientists to write stories based on AI technology.
Of the winning story, Protect and Serve, UCLan's Dr Robert Duggan, said: "I very much admired the story's clarity and economy, and the narrative was skilfully staged for the reader.
"I didn't see the ending coming and I thought the overall rhythm of the piece matched the classic science fiction short story form very well.
"The scenario is quite close to contemporary life in a tech sense and topical in its exploration of how personal data is handled, while leaving enough 'wonder' to leave the reader intrigued by the possibilities. Overall, it's an impressive achievement."
The prize is in its third year of championing new writers from across the country and despite the coronavirus pandemic will return in 2021 with the theme of 'Home'. Submissions open for 'Home' now.
Dinesh, who described himself as a jazz writer, had stories featured in numerous anthologies and magazines, and he regularly ran workshops and literacy classes in community centres, schools and prisons, acting as Chair of the National Black Arts Alliance and the National Association for Literature Development.
This year's six shortlisted stories will all be published online as an eBook by Comma Press and the winner will receive £500 from UCLan, as well as having the winning story published in Northern Soul.
The other shortlisted writers were:
- AJ Reid (has e-published a novella, A Smaller Hell).
- Helen French (her short stories have appeared in venues such as Flash Fiction Online, Shoreline of Infinity and Daily Science Fiction).
- Jake Blandford (a screenwriter and filmmaker).
- Jan Kaneen (her award-winning short stories and flash fictions have been published in Flash 500, Molotov Cocktail, Retreat West, Ink Tears and Scribble, and she has received nominations for Pushcart Prizes and Best on
- Owen Townend (a MA Creative Writing graduate and writer, primarily of short speculative fiction).