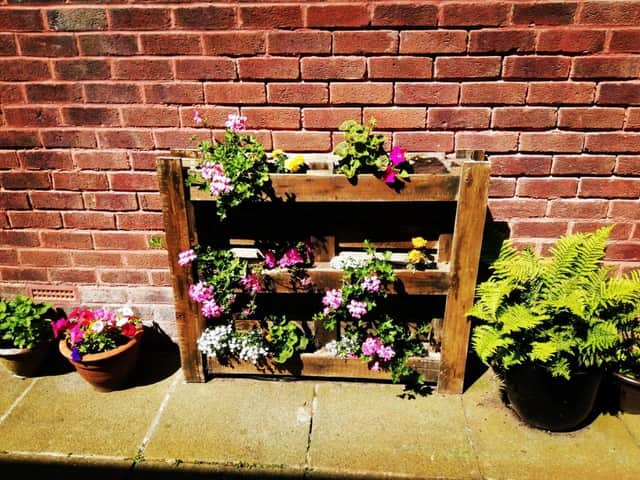 Bainnes School makes good use of recycling pallets in their sensory garden
The green-fingered efforts of the Poulton school have been officially praised with an award from the Royal Horticultural Society.
Staff and volunteers worked to turn an unused corridor area into an oasis of calm and colour.
With a little effort, the passage way has been transformed into an area for students and staff to enjoy the calming effects plants can have on everyday wellbeing.
Pupils used an old Christmas tree stand to create a mini pond
Headteacher Alison Chapan was over the moon when she received the certificate from the RHS.
She said: " The sensory garden is designed to benefit some of our more vulnerable students, for them to enjoy when their day to day school life becomes a little too overwhelming.
"There is a seated area where they can sit and relax if they need to take a minute in the hope they will feel calmer in the natural surroundings."
Plants are mostly being grown in pots at the moment but the school is recycling old wooden pallets which are housing grasses, bedding plants, herbs, ferns, and other shrubs.
Old pallets come in handy for wall art at the Baines School sensory garden
Pupils are in charge of the general upkeep and maintenance.
They water the plant life regularly and are responsible for its day to day upkeep.
There are plans to add a flowing water feature and even grow vegetables once the daily routine of school life returns.
Alison added: "We are also looking at installing hanging baskets and trellis features to grow climbing plants up the walls, as space is limited.
The students are eagerly looking forward to when school re-opens, with our gardening gloves and secateurs at the ready."
The RHS is the UK's leading gardening charity and runs practical-based qualification to grow understanding of horticulture for those in full-time education, from 14 years old.
The Baines gardeners use plants which are easy to maintain, with varying levels of colour depending on the season.
There are scented shrubs, and the young gardeners have herbs growing which can be taken home for tea.
Students also sourced an old Christmas tree holder in a skip, and with it have created a pond feature with fish which adds to the serenity of the area.