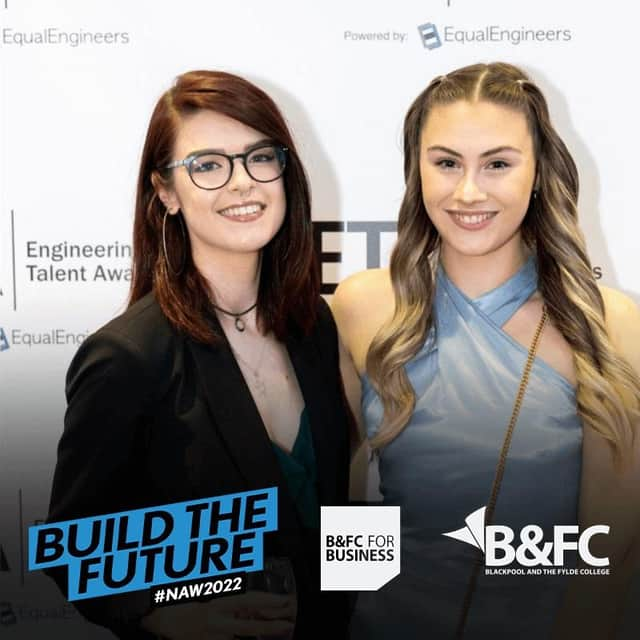 Many young people got involved in National Apprenticeship Week in February
As businesses prepare to meet future challenges, having the right skills in the workplace has never been more important. Nurturing talent and upskilling is essential to build a stronger workforce for today and tomorrow. Blackpool and The Fylde College can work with them to make it happen.
At B&FC they offer a range of apprenticeships for all levels so you can develop your workforce and fill the skills gaps in your business. From traineeships for those with little or no work experience, all the way up to higher and degree-level apprenticeships, their programmes deliver high-quality training to meet your business needs.
The College is ranked in the top 20 UK apprenticeship training providers and work with over 1,800 employers from all sectors including management and project management, digital, construction, automotive, and engineering.
Leah has been working on an NIS Integrated Engineering apprenticeship
With their free training needs analysis, the College will work with you to identify your specific requirements to ensure their training services meet your needs.
Benefits of apprenticeships to your business
- Grow new and existing talent
- Develop a motivated, skilled and qualified workforce
Lois is currently working on her NHS apprenticeship
- Increase staff retention and productivity
- Plug your skills gaps with bespoke courses tailored to your individual business
- Funding; depending on your business size and eligibility, most apprenticeship training costs are either fully or partially (95%) funded by the government
Employer Case Study - The Vella Group
"Apprenticeships have been at the heart of our Group since it began in 1986. Karl Vella, our founder and executive chairman, started his career in the automotive industry as an apprentice panel beater and has since dedicated a lot of his time to supporting young apprentices.
"Apprentices are great to have within the business, they can add a new lease of life into the workplace. Having apprentices within the business enables us to not only grow our own talent, but also helps to address the skills shortage in the industry.
"Blackpool and The Fylde College has a reputation for excellence. Our apprentices are supported by talented staff, outstanding resources, and a commitment to student support and employer engagement, which helps them to develop the theory side of their apprenticeship."
Employer Case Study - Lancashire and South Cumbria NHS Foundation Trust
"Apprenticeships are a brilliant way for us to attract and grow our workforce, they enable us to train and develop staff up to a high standard and create a workforce able to face future pressures on the NHS.
"Blackpool and The Fylde College is a provider we have worked with for many years, they offer high quality apprenticeship programmes to train our apprentices. The customer care B&FC offer is outstanding, they have been very adaptable and able to meet the needs of our organisation.
"I would advise other companies to definitely look to recruit apprentices, there are so many apprenticeship programmes available, and apprentices are a fantastic way to attract new talent into companies, resulting in shared skills, a boost to staff morale and confidence."
Employer Case Study - Fylde Coast ARC
"Fylde Coast ARC really values what apprentices can contribute to our company. Our experience has shown that young people bring fresh ideas and enthusiasm into the business which can really invigorate our workforce. Our apprentices fit in well with the rest of the team as they are constantly learning new techniques and the latest skills which they can pass onto their colleagues and likewise they benefit from the qualified technicians who mentor them.
"Apprentices are an investment for our future, we are able to grow our own talent by finding a course that specifically suits our business. Blackpool and The Fylde College is a local business with a great reputation for supporting apprentices, we have worked with B&FC now for over 30 years. We want to continue partnering with B&FC taking on board three new apprentices per year across different departments in our business."
What's in it for the apprentices?
If you're keen to start your career straight away, an apprenticeship could be for you. An apprenticeship gives you the best of both worlds: the chance to work towards a nationally-recognised qualification and develop your career at the same time. Apprenticeships are available to anyone over the age of 16. Most of your training is on-the-job, with 20% of your apprenticeship college-based.
Why choose an apprenticeship with B&FC?
- Expert tutors and assessors
- Unparalleled levels of student support
- A collaboration with hundreds of local and national businesses
- It has an excellent reputation for delivering high quality apprenticeships.
The great thing about an apprenticeship is that it's personalised to you and based on your unique abilities and career goals. You'll also get lots of support from your own personalised skills coach.
Apprenticeships can include higher and degree apprenticeships or traineeships, which help you get entry level qualifications.
Ready to upskill your workforce or hire an apprentice?
B&FC for Business will support you from start to finish. You will be assigned a dedicated Apprenticeship Training Support Officer who will work with you to identify and fulfil all your training needs - call 01253 504 343 or email [email protected]
If you have any questions about becoming an apprentice call 01253 504 343 or email [email protected]