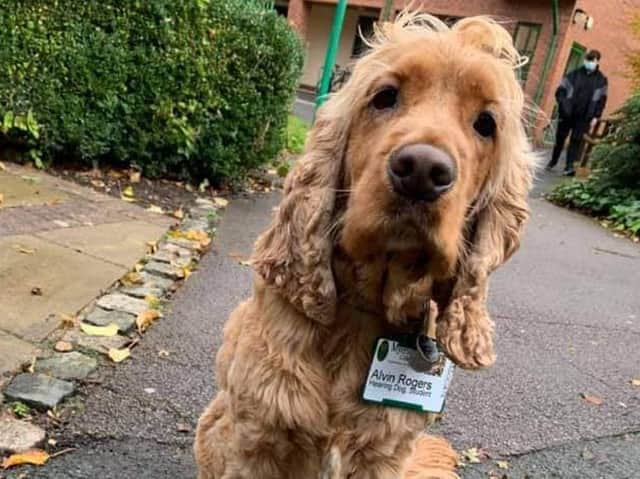 New 'student' Alvin Rogers on campus
After just a few weeks the cuddly pooch is proving he is a star pupil and has made scores of new friends as he settles into campus life.
The plucky canine is the newest recruit on the equine science degree at Myerscough College University Centre and has moved into halls of residence at the Bilsborrow site with his owner undergraduate Trinity Rogers.
It is all thanks to Alvin that the 20-year-old has signed up to the BSc honours course, which she started in September. Although she has the full support of staff and fellow students as well as Myerscough's Inclusive Learning team, Alvin is an extra bonus.
She explained: " I am profoundly deaf in both ears, and grew up with hearing aids, before having cochlear implants when I was about 13. I have a language processing disorder which basically make it harder to remember instructions and information.
''I found out about Hearing Dogs for Deaf People a few years ago and I knew I would need one. I had to wait until I was 16 before I could apply for one and the process went from there. It takes a long time to be matched, but I finally met Alvin last September and agreed to take him as my dog. It was a very hard journey at the start because my family and I had never had a dog before, so we had to build that relationship.
''Now, we finally can work together at ease, and although Alvin can decide to be cheeky, I love him to bits. He's my best friend and my superhero."
Trinity is living away from home and said that having Alvin by her side makes life so much easier by making people aware of her deafness.
She added: "It has given my parents so much comfort in allowing me to grow independently knowing Alvin is there by my side to protect me."
Alvin helps her get to lectures on time, by alerting me to her morning alarms, letting her know when her new friends and staff are trying to get her attention, and alerting Trinity to other things such as fire alarms and doorbells.
"But most importantly he just makes me laugh because he has a strong character, and gives you the best cuddles, " she says.
Charlotte Brigden is Assistant Head (HE) of Equine at Myerscough College and University Centre. She said: " Trinity is a fantastic student. She gives 110 per cent to her studies, but more importantly, she is a very active member of the group. She is always the one to be adding comments and arranging help for fellow students within the first year group."
Getting to Myerscough was a major achievement for Trinity as her parents were told throughout her childhood not to expect too much.
She said: " Previously, medical professionals would tell my parents to not have high expectations high for me because of my deafness, and I was bullied through school because of it, but I have proven them wrong. If you have a dream, never let go and fight for it, no matter what others say."
Hearing Dogs for Deaf People is an independent UK charity which trains dogs to alert deaf people to a variety of sounds, and provide emotional support through companionship. Their burgundy coats also signal to the public that they are with a deaf person. There are currently around a thousand hearing dog partnerships across the UK.
Earlier this year, Trinity did a sponsored walk to raise hundreds of pounds for the charity.
Although undecided exactly what career path to take once she graduates, she is very positive for the future and said: "I definitely want to work with horses medically, maybe as a surgeon or nurse in the equine hospital. I think it will be very challenging but I don't give up easily, even if someone has told me it's not possible.
"Having a Hearing Dog has made a huge positive impact in my life. I feel confident to do anything independently. I want to thank Myerscough for supporting me and helping me reach to my future as well as allowing me be part of the course."
Find out more about the charity and how you can sponsor a puppy here https://www.hearingdogs.org.uk/about/ .
The charity also needs volunteers to become a puppy socialiser, helping to bring up the puppy and train it to be then given to the future deaf recipients.
It costs £25,000 to take a puppy from birth through to being partnered with a deaf person.