All smiles at Fulwood Academy
Fulwood Academy was filled with smiles as GCSE results were opened today.
Thursday, 20th August 2020, 12:00 pm
Updated
Thursday, 20th August 2020, 12:06 pm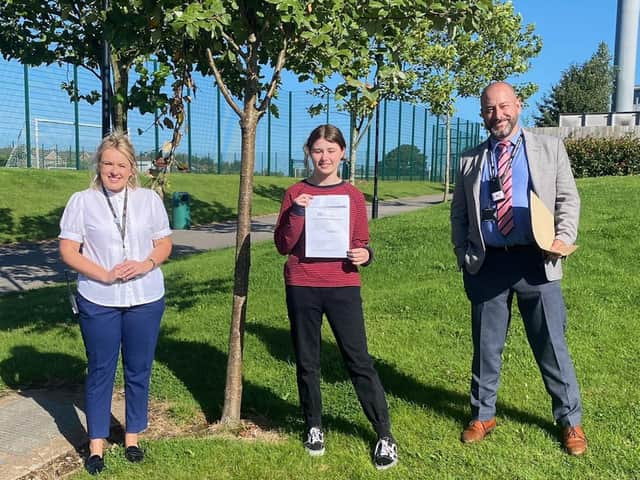 Fulwood Academy head girl Lucy Corner collects her GCSE results accompanied by Katie Kaye, Assistant Principal.and school vice principal Lee Mr McLinden
Principal at the Preston school Dave Lancaster said: "It was great to see these students back in school, albeit with social distancing fully adhered to. It was fantastic to be able to see them face-to-face and wish them well for their futures.
He added: "What made this so much better was that these students left us with the grades that they rightfully deserved. Up until Covid struck, they were giving it their all and were on a very positive trajectory.
"The grades they have achieved, which have been through a very robust moderation process, truly reflect their individual talents and determination."
Among the smiling faces was head girl, Lucy Corner, who gotsix top grades between 9 and 7 and said: "I am speechless and so grateful for all the support I have had. I am hoping that these grades will start me on the path to get to Oxbridge, which is something that I really want to explore when I get to Cardinal Newman College.:
Hannah McDonald, who has overcome a number of health problems which has means that much of her school work has been done remotely but she still got seven grades that were at 7 or above.
Harry Crossan was the top performing boy, notching up a collection of the very top grades including four 9s and three 8s. He was closely followed by James Buchanan who celebrated seven grades at six or above.
Harry said: " I am delighted, but I feel quite humble about the grades I have got. I couldn't have done it without the support of the school.
Mr Lancaster added: "Overall, as a school, we are in a much stronger place than last year. But, that is not what today is about. Today is an opportunity for our students to celebrate after what has been such an uncertain time.
"They can now go on to the next stage of their education with the confidence and belief, knowing they can achieve so much with hard work and effort. We applaud them not just for what they have achieved, but how they have achieved it. They are young people we should all be proud of.
He also paid tribute to parents and staff: "Supporting students through the challenges of their GCSE year is never easy for anyone – and in 2020 there have been more challenges that usual. The one thing that has struck me since I joined this school is how much people care and support one another. That is the foundation stone on which this school will flourish."