AKS students make the grade to snap up places at top universities
AKS Lytham prides itself on providing outstanding opportunities and supporting students' individual pathways - this year is no exception.
Thursday, 13th August 2020, 12:27 pm
Updated
Thursday, 13th August 2020, 12:30 pm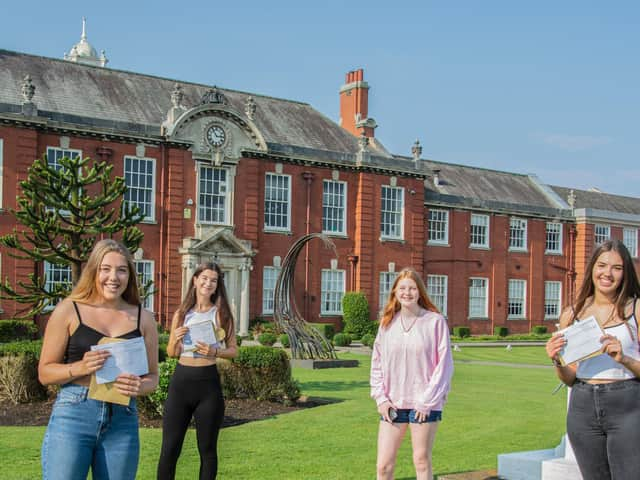 Social distance celebrations at AKS for Sally Stone, Head Girl, Chemistry,Universityof Edinburgh; Emily Hayden, English Language,University ofManchester; Grace Webster,Veterinary Medicine and Science,University ofSurrey; Imogen Sharpe, Psychology,University ofLiverpool
Despite the unusual circumstances, this year saw another set of outstanding set of A level results with students excelling and taking up places at some of the country's most prestigious universities.
More than 90 per cent of thsoe who applied are taking up places at their first-choice university, with two thirds of students going on to study at prestigious Russell Group universities, with Manchester, Liverpool, Lancaster, Edinburgh, Newcastle and Imperial among the most popular .
As in previous years, medicine and the sciences have proved popular, along with politics, business, English and psychology. Others have chosen vocational career paths, including the RAF and primary education.
Alex Cowburn is off to Manchester thanks to her A Levels
Headmaster David Harrow said: "We are incredibly proud of all of our students. They have faced an unprecedented set of challenges over the last few years: changes to GCSEs, COVID and, now, the uncertainty over A level grading.
" In a time when, inevitably, one focuses on what has been missed, we must also remember to celebrate what has been achieved: the capacity of AKS students to adapt and to thrive is remarkable, and the joy and energy with which they do so is heartening and humbling.
"The resilience, creativity and character they continue to demonstrate will be invaluable as they prepare to seize the opportunities to come."
Head of Sixth Form, Kevin Maund said: "I am delighted our students will now take the next exciting step in their lives, whether it be studying at university, embarking on a competitive apprenticeship or entering the world of work. We are thrilled to be able to share in their successes today.
"Today is always an emotional time but I know they will continue to make a positive impact on AKS Sixth Form, now as active members of our alumni community, supporting the new generation of sixth form students in their own ambitious journeys. We are all very proud of their achievements."
Alex Cowburn is going to Manchester to study chemistry and said: "My teachers have helped me enormously and I wouldn't have got here without them, not only in academic terms, but also due to my involvement in all the co-curricular activities".
Madeleine Haslem will be studying politics and international relations at Newcastle and said: The amount of support the teachers are willing to give, even through lockdown, has been above and beyond" and Emily Richmond, off to Queen's Belfast to read chemical engineering, added: "The support from teachers has really helped build me as a person and academically".