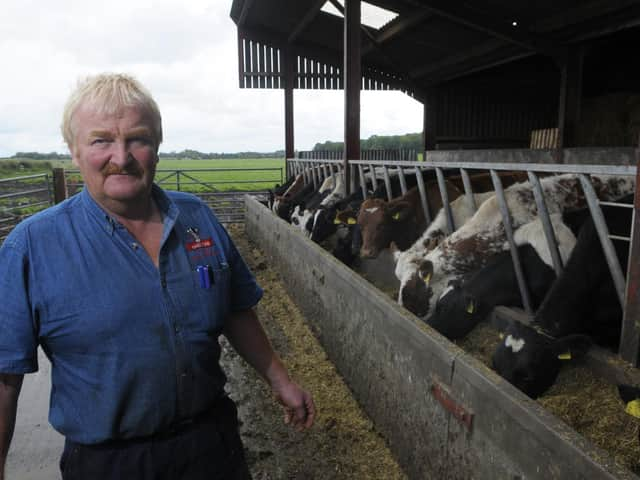 Andrew Pemberton has seen a 30 per cent increase on demand for his milk and goods
And it seems those days of the daily milk round are back, with a huge surge in demand for the milkman in the wake of the coronavirus outbreak.
Firms across the county have experienced "unprecedented" calls from customers in the last fortnight and an increase in orders as elderly and vulnerable people were forced into lockdown, closely followed by the government announcing wider restrictions on people's daily liberties.
Milkman of 35 years John Seed, in Garstang, who shares his rounds with brother Robert, said while they lost regular custom from many of the independent businesses they served, who had been forced to close, they have seen more than a 15 per cent increase in domestic deliveries.
Andrew Pemberton at Birks Farm in Lytham
They work six days a week Monday to Saturday, John, who lives in Catterall, said "Being self employed we are really lucky. When you think of some of the people who have been affected, a lot of our best customers have all been hit since the trouble began.
"We have lost that business for the time being but the phone has been red hot from people at home who now can't get out and would usually buy their milk and supplies from the supermarket.
"We deliver across the surrounding villages of Garstang and we are very, very busy.
"We're just trying to do our best and fit new customers into Mondays, Wednesdays and Fridays but it's been quite a test."
As well as milk, John and Robert supply milk, eggs, potatoes, butter, yoghurts and fruit juices.
He added: "We've been doing this 35 years now and for the last few years in competition with the bigger supermarkets, who have been chasing that extra custom.
"We realise we'll have to work at retaining it when things go back to normal but the response from people really has been lovely, notes and good wishes for what we've been doing and it's very encouraging.
"But it's nothing on a par with those NHS frontline staff who are just incredible."
Fylde farmer Andrew Pemberton, one of Lytham's oldest farming families, who runs Pemberton's Dairies at Birks Farm said the current demands on their services were "unprecedented".
Understood to be one of the last of long-established family businesses supplying raw milk to the local Fylde community, they are working round the clock to try and keep serving loyal customers as well as those struggling.
He said: "It's crazy times indeed. The way I describe it at the minute is it being Christmas Day everyday without Slade on the radio.
"For the industry it's been fantastic – the number of calls has been unreal. This is not just a small rise, we've taken 30 per cent, but it's testing on us all.
"We've always been here. It's what this family has done for 120 years – there's been no extra cost, hike in price."
Andrew and son Tom start at 6am working through until 6pm and he says between the milking they are also trying to play catch-up on the farm after the wet weather.
He added: "We have six drivers. They are fantastic and working so hard to meet all the extra requests and bigger orders we're now getting as people realise just how much milk they go through.
"Nearly every one is now at home, staying in, drinking more tea and coffee instead of their usual takeaway. It is stretching but we are trying to do the best we can.
"I had one driver out from 10.30pm to 7.30am and he served more than 400 doors.
"The current situation is sad but it has really brought it home to people that they would really notice us if we were not there and the service your local farms provide."