Top five per cent joy for Lancashire estate agent
A Lancashire estate agency is celebrating after being listed in the top five per cent nationally.
Wednesday, 27th July 2022, 12:30 pm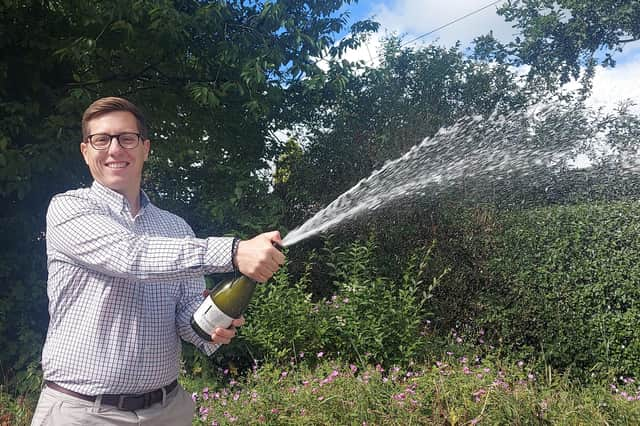 Estate agent Michael Bailey celebrates his company's ranking kin the top five per cent in the UK
Penwortham-based independent, Michael Bailey Estate Agent, has received a Gold Award for Sales in the Best Estate Agent Guide 2023, putting it in the top five per cent across the UK.
According to the market research firm IBIS World there are 19,446 estate agency businesses across England, Wales, Scotland and Northern Ireland.
It means the Penwortham estate agent can count itself in the top 972 having scooped the coveted Gold Award.
Read more:
Michael said: "I'm really, really pleased to have won this award and to be recognised for the experience I give my clients, whether they're buying or selling homes.
"When you think that there are so many estate agency businesses out there, just making it into the top five per cent in Lancashire would be an epic achievement, so for it to be the whole of the UK is fantastic."
Michael's estate agency business serves South Ribble, Preston and some parts of the Fylde.
It is also active in the Penwortham community, where it recently sponsored the Grand Penwortham Plod, a 5K run for charity organised by local running group the Penwortham Pavement Plodders.
In May, Michael warned that house prices are likely to drop next year by around five per cent, equivalent to knocking between £9,500 and £11,500 off average prices locally, suggesting that now is the best time to consider selling in order to lock-in better valuations.
He added: "We work hard to make sure we give our clients 100 per cent, whether that's helping sellers find buyers at the right price or helping buyers find and exchange on their dream homes.
"But I also invest a lot of time and effort into educating people about the local property market so they're able to make more informed decisions, and I think this is one of the things that gives us an edge and has contributed to us ranking in the top five per cent of estate agency businesses in the whole of the UK."