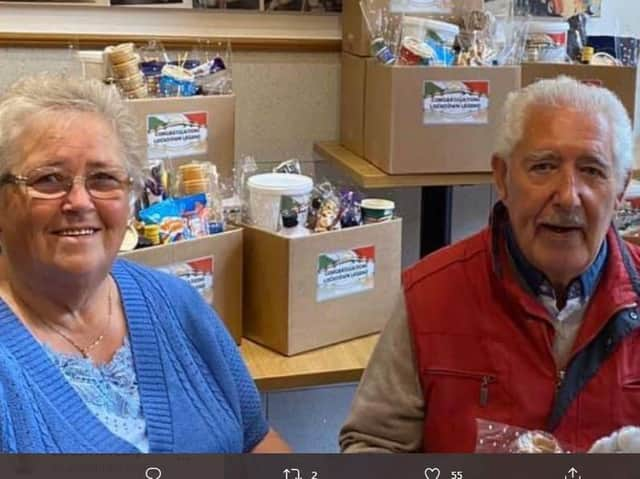 Tony Federici with his wife Elisabeth
Granddad Tony has just been recognised by the Ice Cream Alliance of Great Britain in wining its national award for his service to the ice cream industry.
Tony, of the Chorley-based Frederick's ice cream family, which runs a popular shop on Bolton Road, Heath Charnock, won the alliance's Marvin Benton award following a virtual ceremony on Monday evening.
His proud family announced the win on social media and later released a statement saying: "Frederick's Ice Cream Ltd are proud to inform their customers and business
associates of their recent award.
"Mr Anthony (Tony) Federici has been awarded the Marvin Benton Award for 2021.
"Each year the Marvin Benton Award is given to an individual who has demonstrated outstanding; continued contribution to both the Ice Cream Alliance and the wider industry.
"The Federici family and staff at Frederick's Ice Cream, Chorley are very proud of our dad and granddad on being recognised for this award.
"He, Tony and our mum, Elisabeth have dedicated their lives to the growth and development of the business and have been great ambassadors and representatives of the ICA (Ice Cream Alliance) on both national and regional level and the industry in general."
Speaking on the ceremony video, Tony's daughter Anna said of her dad after he had won the award: "He will be very humble and I know he will be very happy to receive it.
"My dad has been such an inspiration to all of us.
"Dad has always been there. He's the leader and the man we all look up to.
"He's loved by everyone. The customers absolutely love him."
Anna said the children knew him as he did his rounds in the ice cream van and that he new all their names.
She added: "He makes us laugh every day. He's such a wonderful man and I know he will be happy to receive this award."
The family, which describes itself as 'passionate Italians' says it is also passionate about making the finest quality luxury ice cream - which it has done for more than four generations.
Long queues are regularly seen at the Bolton Road shop during spells of fine weather as folk sample its range of quality ice creams of offer.