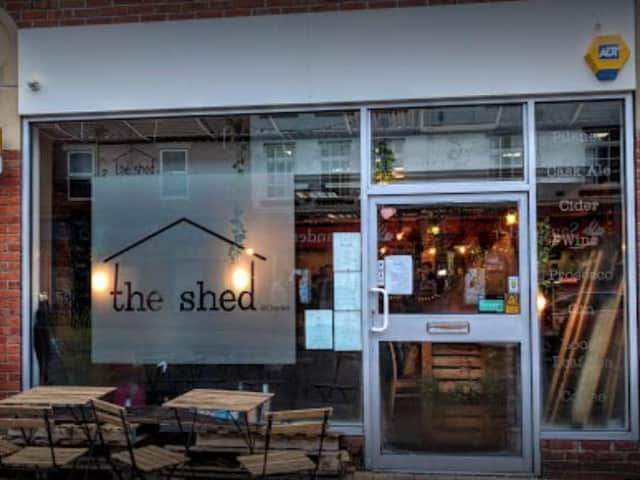 The Shed in Chorley town centre
Stephen Hornby, who runs The Shed in Chorley town centre, has reached out to all independent microbars and pubs with the launch of a fund raising drive to help them survive the strict rules.
He warns that Chorley's bristling pub and bar scene could be devastated – with businesses going to the wall and owners and staff thrown on the jobs scrapheap with Christmas just around the corner.
Under Tier 3, pubs can only serve alcohol to customers who order "a substantial meal".
It has forced many pubs and bars in the town to close until the restrictions are lifted. But it is feared some may not survive the Government's stringent new measures.
Stephen has been forced to close his Fazakerley Street microbar again – after weathering the economic storm of the national lockdown earlier this year.
His gofundme campaign – "Help save Chorley's (non food) Bars and Pubs – has set a goal of £1,000.
It is more than halfway past that target already.
Regarding adhering to Tier 2 Stephen explained: " I personally had gone to all efforts to try and make ends meet by building an outside area for people to sit in whilst keeping dry and warm – as we were not allowed more than one household per table inside, but could mix outside – then obviously, five days later, Tier 3 came knocking on our
"I thought, ok, ok, as long as we get some support, we may be ok.
"The council have been fantastic, not only to me, but many other bars, pubs and restaurants in town, and we know it is not their fault in the following, but we have been closed nearly a week with no idea in the slightest what financial support we will be receiving."
Stephen said he still had to pay his bills while at the same time seeing his savings decrease.
He continued; "I can probably speak for a lot of us, but the original grants received back in April only scraped the surface of outgoings for the amount of time we were shut for.
"Believe me, I did not want to do this, but I must make clear that money collected in this account will be split between all independent micro bars, pubs in Chorley that cannot open simply because they don't serve food, only if they want a cut of the money made."
Stephen said: "The more money we raise, the more money we can put in these businesses pockets, the more venues we can save.
"Not to pull on the heartstrings, but at this rate, Chorley's drinking culture will be in ruins in no time in the current environment, and we have no idea when we will be allowed to reopen.
"It's not just about getting you a pint after lockdown, or a cheeky gin after a hard days graft, it's the tens of landlords/landladies who will be without no livelihood and no business, it's the hundreds of workers, who yes, will be put on the new Job Support Scheme, but will they have a job by Christmas.
"Even if it's a couple of quid, or the amount a pint costs, pop a pint in the jar for us. It would be more than appreciated for all us drinking establishments that can't open due to the extremely unfair restrictions."
Malcolm Allen, chairman of Chorley Traders Alliance said: "If customers feel they can support it it's all well and good."
A total of £580 had been raised so far..