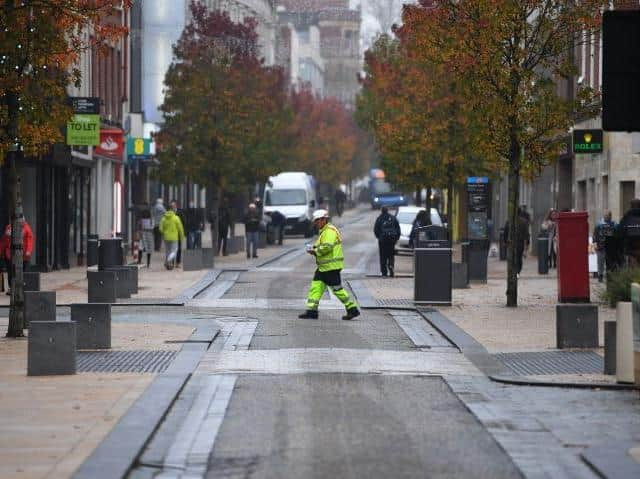 A usually busy Fishergate stood abandoned this morning
The Government announced last week that the UK would be plunging into another lockdown in an attempt to curb the spread of Covid-19.
And today marked the closure of all non-essential businesses once again, including hospitality, unless they offered a takeaway service.
Pictures snapped in Preston today show an empty outdoor market and vacant Fishergate, as many shoppers opted to stay at home than hitting the high street.
The 'circuit-breaker' national lockdown will continue until December 2, as families across the country hope to retain some form of normality this Christmas.
However, holding on to some hope was cafe owner Louise Fey, of Ravenous coffee shop, who said that there was still a 'breakfast rush' for takeaway orders this morning.
She said: "This morning it was pretty busy because of my breakfast orders, but it's quietened down now completely. The streets are absolutely dead, there are a few people walking about but not many at all.
"I think this lockdown will be harder for businesses than the first time around because it was summer then. Now it is going into winter I think there will be a drop in people coming out into Preston.
Preston's outdoor market was quiet, with market stalls packed away
"People will struggle more with this second lockdown, but I have managed it once and I can do it again by offering takeaway orders. The timing is bad too because the months leading up to Christmas are my busiest and are for other shops too."
Non-essential retail can remain open for delivery to customers and click-and-collect services, which many businesses have begun implementing in a bid to stay afloat.
Stores remaining open from today include those considered to be 'essential' - including the likes of pharmacies, food stores, garden centres and other businesses selling essential items.
Before the lockdown, Andrew Stringer, St George's Shopping Centre manager, thanked shoppers for 'playing their part in shopping safely' since the first lockdown, and encouraged shoppers to follow the rules and advice when visiting open retailers.
Shoppers opted to stay indoors instead of hitting the high street
Reacting to shoppers today, he said: "Footfall is quieter today as you would expect but there are certainly more customers in the centre and in the city generally than there was on day one of the first lockdown.
"We still have all the restrictions in place and our teams on the ground are communicating them to shoppers who are in the centre for their essential purchases."
St Georges shopping centre remains open for essential retailers, takeaway food and click and collect services.
These include Superdrug, Holland & Barrett, M&S and Savers and food takeaway from the likes of Greggs, Krispy Kreme, Costa Coffee and Subway.
Only essential stores remain open in the city centre and across the country
Mark Whittle, Preston BID Manager added: "We all understand that being told to stay at home is challenging, but we are still able to purchase essential items.
"We would encourage anyone who needs to do so to consider the city centre businesses who remain open to supply such items, together with venues offering take away food and drink".