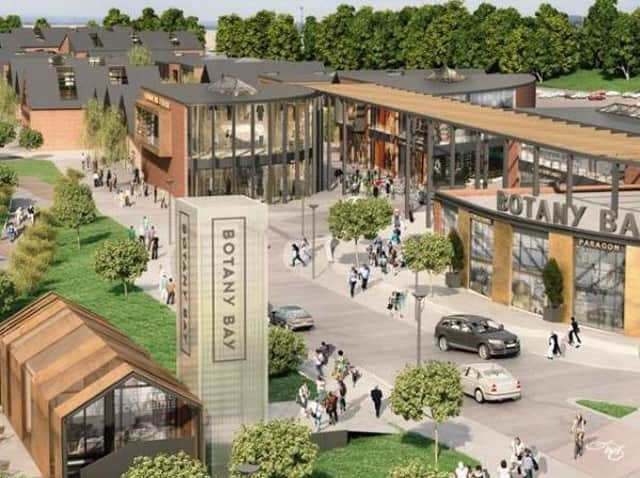 An image of what the retail outlet village was going to look like
Instead, a substantially downscaled redevelopment of the Botany Bay site will now go ahead.
Developer and asset management company, FI Real Estate Management (FIREM), is set to unveil the new plans at a virtual public consultation event.
The proposal for the 21 acre site will be for 325,051 sq ft of industrial and commercial space, and will consist of 12 main blocks, which in total will deliver 33 individual units for employment and commercial uses.
The new proposed units at the site
A spokesperson for FI Real Estate Management, said: "We have developed alternative plans for the Botany Bay site due to the continued decline in the retail sector, which unfortunately has been further compounded by the coronavirus situation.
"Our proposal, which we feel is consistent with the site's heritage, will create commercial and employment usage. This sector has seen continued growth and we have identified local and regional demand for high quality space.
"Whilst we are disappointed that the retail outlet village will no longer be proceeding, the current circumstances could not have been foreseen when the original plans were submitted and our revised plans demonstrate our renewed commitment to generate new job opportunities and further investment for Chorley."
Others blocks are for commercial uses and will deliver around 7,157 sq ft of commercial floorspace.
Whilst further units will deliver approximately 317,923 sq ft of employment floorspace.
The existing Botany Bay Mill building is being retained as part of the plans.
All members of the public are welcome to view the plans virtually and provide feedback.
Details of the scheme proposals can be viewed at www.consultation.fi-rem.com/botanybay/ until November 27.
The scheme has been designed by MCAU and planning consultants John Francis Planning hope to submit a planning application to Chorley Council on behalf of FIREM in the coming weeks.