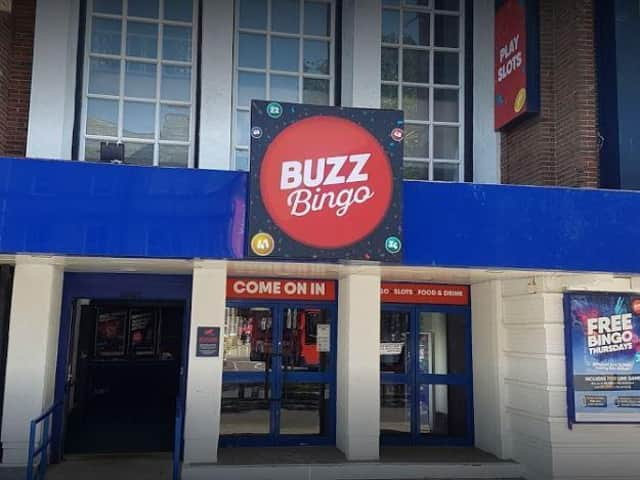 The Buzz Bingo hall in Chorley
The Buzz Bingo hall on Market Street has been at the centre redevelopment plans for that part of the town centre for years.
Plans have been submitted which, if approved, will result in its demolition.
The derelict building is now owned by Chorley Council after Buzz Bingo surrendered its lease over the summer.
Buzz announced it was shutting all of its halls nationally as a result of the coronavirus.
The authority, which has previously had plans to create a multi-use space in that area, is now going to demolish the building while firmer plans are drawn up for the site.
An application for 'prior determination' for the proposed demolition of the bingo hall, which is number 1 Market Street, together with the units, numbers 7 to 11, has gone to Chorley Council's planning department.
Council leader Alistair Bradley said: "I'm sure most people will know we had been looking to transform the site into a place that would really benefit the town centre and help it adapt to the changing habits of shoppers and visitors and this opportunity now allows us to look again at those ideas.
"I appreciate there are happy memories in the building for a lot of people but it's not really fit for purpose in the modern age and would need a significant amount of work doing to it to get it back into shape – the cost of running the building is probably one of the reasons Buzz Bingo had decided to close its Chorley site as I would expect it would be one of their busier venues."
Councillor Bradley added: "The detailed surveys have revealed significant amounts of asbestos and a multitude of other problems – essentially the building is in danger of falling into serious disrepair and becoming a public health hazard – and to try to do anything to adapt it or remodel it would be extremely expensive and not give us what our town centre needs."
The building, which was once home to a cinema is adjacent to the Cleveland Street car park and it is attached to two small retail units, which are also empty and will be demolished as part of the
The wider site did use to be home to a restaurant, which burnt down, office space and a pub, which had also stood empty for many years.
The authority can also reveal that it is awaiting the results of a bid to the government's Future High Streets Fund, which could help transform the site into a place for everyone to enjoy.
"This pot of money from the Government is for projects like this that would look to turn town centre sites, which are a burden, into something that would help the economy recover from the pandemic," said Councillor Bradley.
"To be successful, in what could be a multi-million pound investment, we would need to have a site that is ready to go. So, not withstanding the reasons mentioned earlier and the poor state the building is in, if we get on with preparing the site for redevelopment it will give us a much better chance of securing a significant amount of government funding.
"Since we created the new car park adjacent to the building I think people can see it has been much more useful to our town centre businesses and visitors as a car park rather than standing empty, looking a mess and having the potential to attract anti social behaviour.
"I appreciate it is in a prominent site in the town centre and I think that's why it's even more important we look to the future and create something exciting in that area that will help the local economy to recover and attract new businesses and visitors once the pandemic is over."
Work is expected to start on site in the coming weeks. If it goes ahead it is expected the site would be cleared by spring 2021.
The council is drawing up firmer plans for the future of the site.