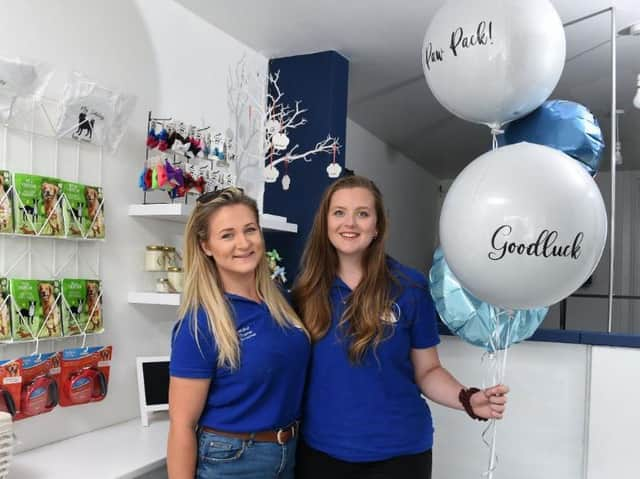 The Paw Pack opened last week and offer dog grooming and walking services to owners in Preston
Over the past few months, there have been a plethora of new entrepreneurs turning their business ideas into a reality across the city.
The Post spoke to some of the people behind these new ventures - to see how they coped through the pandemic and its impact on their newfound businesses.
Sammi, owner of thePaws Pack Pamper Parlour, in Ashton, opened her dog grooming salon on Watery Lane last Tuesday, after the introduction of lockdown inspired her to develop the dog sitting business that she managed with friend Johanna.
Owners Sammi and Johanna, of the Paw Pack, Ashton
She says: "We have been running a dog walking and sitting business from a year, working out of my own house. We have been building up our clientele since last year and then lockdown kicked in. It has really impacted self employed people and for a long period of time, we couldn't walk the dogs or visit them because of the restrictions.
"We had to close for four to five weeks before the restrictions on animal care were lifted meaning we could carry on. We were a team of seven and for two months it was just myself working. I spent time in lockdown learning how to groom dogs and from that, a spot opened up at a local hairdressers that had been hit by Covid-19.
"We jumped on it and managed to build our new dog grooming business from there. Our clients are really loyal to us although we are still waiting for 80 per cent of our clients to come back, as many of them are working from home. Lots of people got lockdown puppies so in that sense, we are lucky and business it going well. Before, I was walking dogs at the same time as trying to answer the phone."
The new dog grooming and walking premises also sells a range of giftware, some of which is produced by and supports local crafters.
Jade Barson owns Green Pheasant Gifts in town and was only open for 13 days of trading before the lockdown
According to research by Growth Intelligence, the Covid-19 pandemic has sparked a retail transformation in the UK - with more than 85,000 new businesses launching online stores or joining online marketplaces.
One store that joined the popular online marketplace, as well as offering gifts and homewares to buy in store, was Jade Barson, owner ofGreen Pheasant Gifts, Winckley St.
With lockdown restrictions tightening in Preston, she says that selling her items online was the main reason she survived through the pandemic, and says her now, her new business is thriving.
She first opened on March 10, just two weeks before the country-wide lockdown was introduced but battled through the financial difficulty of the past few months and is now looking to open up a second store.
Jade, owner of the new Green Pheasant Gifts, on Winkley Street
She says: "We only had 13 days in business before the lockdown I had to bring all my new stock home. I had spent thousands of my own savings on stock for the shop and didn't know what to do with it. I had left my job as a paramedic to start this new business so was worried with no income coming in.
"I used Facebook groups and social media sites like Instagram to get the word out about my business. For people that hadn't seen us in those first 13 of us being open, they didn't know we even existed. I feel like so many people have started shopping locally and supporting their local businesses and economy. I had so much stock that people could choose from online and I found myself going to the post office to send delvieries every day."
With her new website set to be up and running by the end of this week, shop owner Jade now plans to develop her business into a store that sells a range of interiors, from sofas to bed throws and said she would 'love to expand'.
Graham Sims first kickstarted his group Dadsnet two years ago, encouraging over 100 dads from Preston to take part in football sessions and offering them the opportunity to socialise and enjoy the mental health benefits of being part of the regular group.
Tap room owner Ray was worried that his new business wouldn't make a profit during the pandemic
Inspired in lockdown, he developed the scheme into new not-for-profit business Kickabout, first trialling a donation system at Kirkham by allowing dads to pay a small doantion to play. This new system, with the venue and equipment provided by with TeamHQ, proved successful, with future locations for 'kick abouts' now on the horizon.
Graham said: "Since we have turned the idea of a few lads kicking a football around into a business, it has just exploded. Before, it was just a bunch of dads getting together and having a laugh, but now it has become about helping to chase people's mental health struggles and help dads who may be struggling.
"I didn't think about the implications of it, but now I have guys thanking us for the kickabouts saying they needed them and didn't know what to do when they were feeling down. It has showed us how much this is really needed. We are now looking at getting some funding through the National Lottery to help make these sessions free."
The cost of hiring a pitch for a year is approximately £2,000, that Graham funds through charging a few pounds for dads to take part in the weekly football sessions. Through extra funding, he hopes that he can begin running these sessions completely free to continue battling men's mental health and encouraging a fitter lifestyle.
He added: "We are not in it for the profit, but purely to provide resources that dads and men need."
The effect of Covid-19 was felt by the pub and restaurant trade - who were forced to close their doors back in March with the introduction of the lockdown. For many, that would be the last time they would ever close the shutters - but for others, such as the new Tulketh Tap Room, it was just the beginning.
He claims business has been a success as more people are choosing to support local businesses
Planning permission for the new premises, on Tulketh Brow, Ashton, was accepted on May 25, at the peak of the coronavirus pandemic. Within eight weeks, owner Ray Woods was ready to open.
"I had been planning this since last September so when the lockdown was announced in March it was just unbelievable. I had spent so much of my own time and money on licensing and planning to get everything set up, I didn't know what to do," says owner Ray.
"I chose to still go through with it although I was worried that I wouldn't make any money. I had enough money in place to open as soon as lockdown restrictions were lifted. Luckily, they were lifted for shops and restaurants just weeks before I was ready to open.
"The support from the local community has been amazing. People can walk here from the park and bring their dogs in and there's no need to travel into town. There are so many residents at Lane Ends who are now becoming familiar faces and supporting me. I have had to reduce the amount of tables and had to change the bar seating because of the social distancing rules, but my decking on the outside has been really popular and kept people coming in."
According to Mark Whittle, Manager of Preston BID, the footfall figures in the city are down year on year but Preston still remains a place where shoppers will continue to support local businesses.
He said: "Preston's footfall remains largely unchanged over recent weeks, and has mirrored the national average. However, year on year, as with all destinations, footfall is lower. It's still a challenging time for many businesses, depending on the sector in which they operate, but it's positive to see new businesses opening, and a good number of businesses trading well, despite the challenges the pandemic brings.
"Preston is a great to place to open a business, with a population who are largely committed to supporting local businesses".
Graham and Peter, at the new Kickabout sessions