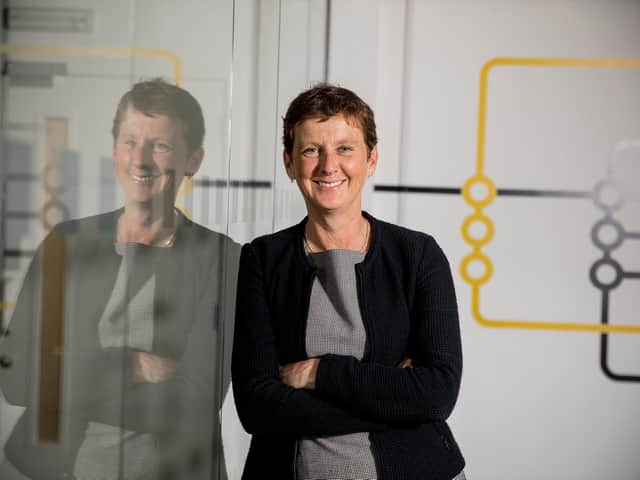 Kate Houlden, Like Technologies' MD
The answer is Like Technologies.
A software and electronic engineering firm based in Halton, the company provides bespoke hardware and software solutions to ensure everything runs smoothly and that safety and security standards remain high at places like Heysham 2.In fact, Like Technologies has supported the power station's control systems for a number of years.
"Software and electronic engineering for power stations is the main part of the business," explains Managing Director Kate Houlden, who's worked at the company for five years. "We carry out any necessary software changes in line with changes at the stations so that everything works correctly, and also work on hardware doing repair work on electronics in circuit boards and power supply units to ensure everything is in top condition."
Electronic engineering: Like Technologies' bread and butter
Founded in 2006 by Alan Hobson and Graham Wilcox, who previously worked for British Energy, Like Technologies does the unseen work to keep the power flowing, refurbishing systems where possible, re-engineering them where necessary, and future-proofing hardware as best they can.
"If you're technically-minded and have an interest in how things work, power generation is ideal," says Andy Davy, Like Technologies' Heysham-born Operations Manager. "We work with electronics of various ages, so if you like understanding how things work and being able to fix them when they don't, this industry is the place to be.
"We're continually updating things with newer technology," adds Andy, 47, who's worked at the company for 11 years. "I've got engineers here who have over 50 years' experience but every day's a learning day."
Matt Humphries, a Graduate Engineer with Like Technologies
"Everything is very much focused on safety and it's all got to work exactly as it's meant to," says Andy. "You can't have the power station locking up like your computer; you can't just switch it off and on again."
Kate agrees. "It's a very interesting industry because it's so diverse, but the main focus is always safety and security," she says. "That mindset is almost a way of life."
With staff classified as key workers during the lockdown, none of their 30 employees were placed on furlough due to the critical nature of their work.
"We haven't stopped because we can't," explains Kate, 52, who's from Kendal. "In our own small way, we're helping keep the lights on and we thrive under the responsibility of knowing we can't let people down."
Pride in the work and maintaining high standards is something which Andy says is vital as well.
"That's why we invest heavily in our own training: because quality is key," he says. "And being classified as key workers during lockdown shows how vitally important we are to keeping those power stations up and running.
"By default, everybody takes pride in the work because if they didn't they wouldn't work in the industry," he adds. "There's a lot of work that goes into keeping that power station going and there are very few other companies which have the ability and knowledge we have."
Looking to the future, Like Technologies has recently launched another branch of the business called Like Computing which, given their security expertise, offers cyber security consultancy. They're also part of Tech Lancaster, a project focused on providing education and employment pathways to the next generation, allowing the tech, engineering, and electronics industries to grow.
All in all, Kate says she's excited by where the company can go. "We want to make this area a tech hub," she says. "There's huge potential in the region."
The Lancashire Post is more reliant than ever on you taking out a digital subscription to support our journalism. For unlimited access to Lancashire news and information online, you can subscribe here: https://www.lep.co.uk/subscriptions