Tackling Covid: how UK firms are helping find a cure #ScotLifeSci20
UK firms and research projects tackling the Covid-19 pandemic will be a major focus at an online conference for the UK's life sciences community.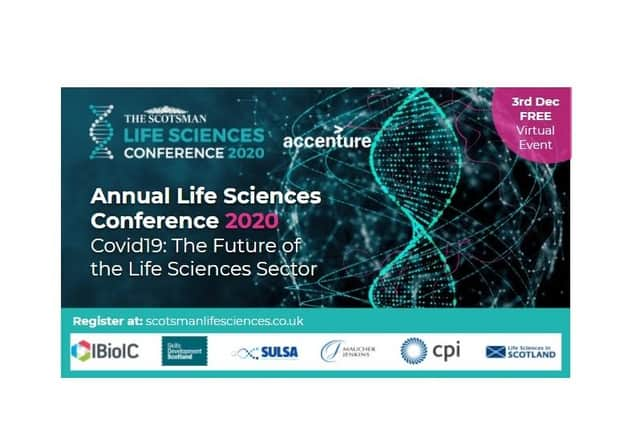 Book your free ticket to this fascinating conference today
It's a sector which plays a vital part in the UK economy – estimated by Forbes to be worth £70billion – but is equally pertinent to every person living on the planet.
While life sciences covers everything from farming to microbiology, zoology, botany and human life, its work in helping to tackle the coronavirus pandemic and find a vaccine has been crucial throughout 2020.
Many UK and global companies and research projects have partially paused existing programmes to join the fight to find a cure for the illness that's crippling society and economies, and putting millions of lives at risk.
Speakers at the Scotsman's Life Sciences Conference on December 3 will address the vital work at the heart of the Covid-19 response team and discuss the opportunities and challenges in the sector.
The panel includes MSP Ivan Mackee, Scottish Government minister for Trade, Investment and Innovation, who has a strong background in both industry and charitable work across the globe, and Dave Tudor, whose work as managing director at the Medicines Manufacturing Innovation Centre, Quality and Biologics, is setting the UK up as a technology and innovation leader.
Caroline Barelle is CEO and co-founder of Elasmogen, a company working in the soloMER biologics industry to fight inflammatory diseases. Her fascinating work has seen her awarded a prestigious Royal Society of Edinburgh Enterprise Fellowship.
Phil Brown is a director of regulation and compliance and has worked with some of the leading firms in the sector for decades, and brings a wealth of expertise and experience.
The agenda for the event includes the Covid-19 response, how that may shape NHS innovation, animal health and agriculture, the pharmaceutical supply chain and skills for the future, and how the sector can evolve in a fast moving world.
Spaces for the Life Sciences event are going fast.