Study reveals Preston is among the UK cities that love Black Friday the most
Black Friday has become a tradition for November, offering discounts and sales on many products from electronics to clothing.
Watch more of our videos on Shots! 
and live on Freeview channel 276
Visit Shots! now
Experts at BoohooMAN have analysed 98 terms related to Black Friday and sales over the last two years and calculated the monthly average in 50 cities across the UK. They used recent population estimates to then calculate the averages per 100,000 residents and used that number to rank the cities.
Over 80% of searches occurred in November of each year but as brands put out deals much earlier and start advertising, the public start to plan and save for the biggest deals.
Across the UK, searches for fashion trends' and 'gaming consoles' are among those with the highest volume, with 'fashion trends' reaching 1,500 average searches each month. Black Friday weekend gives an opportunity to grab trendy items at a lower price and get some all-weather items ready for the following year. The data shows that online stores are also popular searches; these stores usually carry a variety of brands, making them a one-stop shop for the best deals on Black Friday weekend.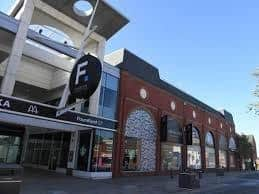 Norwich ranks as the city searching for Black Friday deals the most with an average of 4,654 monthly searches per 100,000 residents. The term 'best Black Friday deals' had an average of 720 monthly searches across the last 12 months.
Bath is second with an average monthly search volume of 4,134 per 100,000 residents. Search terms related to electronics have the highest volume, with a combined average of over 700 monthly searches last year.
Rounding out the list is Preston with 3,484 average monthly searches per 100,000 residents.
Black Friday sales allow retailers to sell any excess stock and merchandise at bargain prices, making it the ideal time for a wardrobe refresh. Many big-name brands will have leftover items from the summer before bringing in their full winter stock, and as trends are cyclical in nature, this is a time to grab something to wear for the next summer season.
John McKinney, Head of Digital Marketing for BoohooMAN commented on the findings: "Black Friday started for stores in the late 1980s and has historically been a day where record profits are made due to sales and price reductions. In the UK, the event became popular in 2010 when online retailers introduced it to the public. As the holiday has grown, additions such as Cyber Monday have appeared, which focus on other areas of retail.
"Fashion is one of the big players in Black Friday deals, with shoppers having the chance to bag a bargain on seasonal trending items and big-ticket items such as boots. Finding these bargains can be tricky, as Black Friday deals have started being announced in advance of the day itself, leaving those who don't plan ahead with the remains of the sales.
"In recent years, the public have noticed that prices are hiked up a few weeks prior to Black Friday and then reduced to their pre-hiked prices on the day itself. Though some amazing deals can be grabbed, it's essential to remain aware of prices throughout the Black Friday weekend and grab the best deals available."