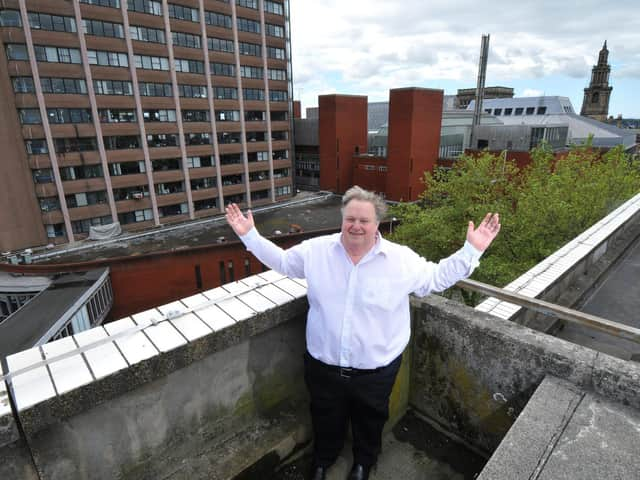 Simon Rigby bought the Guild Centre, next to Preston Guild Hall, just months later
William Simon Rigby - known as Simon - was born in December 1961 in Warton, one of six children.
In his 58 years, he would go on to achieve a multi-million pound fortune, an MBE for services to business, and the title of Lancastrian of the year in the 2017 Biba awards.
Simon Rigby set up green fuel company Farmgen in 2008. Pictured with Fylde MP Mark Menzies at a plant near Blackpool
So prolific were his business ventures, that at the time of his death, he was listed as director of 72 active businesses, from energy companies, to holiday accommodation, the Villa at Wrea Green, children's nurseries, dessert delivery companies, betting shops and the renting and leasing of machinery.
The father-of-two made his money in utility services in Yorkshire, but latterly, was best known for his property portfolio, as he bought up swathes of iconic buildings across Preston city centre.
Simon Rigby with the keys to Fives in Guildhall Street, Preston
His purchase of Preston Guild Hall for £1 from Preston Council in 2014 at the time saw him hailed as its saviour, saving the decaying building from demolition.
This move was followed up in 2015 by him taking ownership of the high-rise office block, the Guild Centre in Lords Walk, and in 2016, he bought Fives bar in Guildhall Street, and let it to London-based operator Shaun Patchett.
He already owned the former Odeon Cinema in Church Street, and announced plans for a refurbishment and take-over by a national food chain.
In 2016, he tried - and failed - to buy the old Park Hotel, overlooking Preston's Miller Park, with plans to restore it to its former glory, and his Villa Group also tried to buy the then down-on-its-heels Preston Bus Station in 2013.
Simon Rigby's take-over of the Guild Hall in 2014
Seemingly with a penchant for rescuing struggling companies, Mr Rigby bought historic ice-cream producer Bonds of Elswick in December 2017.
"I'm Preston mad," he told the Post in 2017. "I was born in Warton, but I consider myself a Prestonian through and through."
He added: "I don't think my story is unusual in so much as I have been away, run a quoted company, had a successful business career and I have now come back to my roots and I want to do all I can to help my city.
"I'm pleased that we are able to help move the city forward and I very much appreciate the help of all Prestonians on this, because Preston has a lot to be proud of."
Martin Molloy, former owner of Bonds of Elswick with Simon Rigby, chief executive of The Rigby Organisation which bought the ice cream firm in 2017
He was is adamant he was no philanthropist, saying his investments were all made for sound business reasons, but also said he was "determined to improve the city "
"Preston needs this," he said. "You can call yourself a city, but Preston has got to start acting like a city, behaving like a city and having the infrastructure that a city has got."
But in 2018, cracks began to show in parts of Mr Rigby's business empire.
In September of that year, 100-year-old Clifton Quality Meats, which he operated from three sites across Blackpool and a fourth in Yorkshire, entered administration at a cost of 80 jobs.
Weeks later, just before Christmas, it was announced that 100 jobs would be lost as he closed nine Safehands Nurseries sites across the north west.
Mr Rigby explained that the nursery side of the Safehands business had become "unsustainable", having sold a larger part of that business - Safehands Care - to PremierCare, saving around 250 staff jobs.
Also in December that year, he announced he had let the cafe, kiosk and restaurant of Bonds of Elswick to managing director of Leftmove estate agents, Ross Wallis.
On New Year's Eve 2018, Fives closed its doors for good, and Mr Rigby put the Guildhall Street venue on the market in February 2020 for £1.25m.
He said he was in "no rush" to off-load the Grade II listed building, and would prefer to let the property to someone with a "real stake in Preston's future".
In February 2019, Mr Rigby sold off his Betsid betting shops, six years after trying to compete with national chains. Three of his six BetSid stores were bought by an independent Preston bookmaker, but the remaining three closed their doors permanently, with nine members of staff made redundant.
In August 2018, complaints started to be voiced about problems at the Guild Hall.
At that time, the Lancashire Post was contacted by artists who had performed at the Guild Hall, who said they were struggling to get payments owed.
Within 12 months, more than 200 creditors, including West End producers, comedy promoters and a school theatre festival were named in theatre publication The Stage as being owed a total of more than £4.5 million by the company behind Preston Guild Hall and Charter Theatre.
The theatre closed and went into administration in May 2019, when it shut its doors following a string of allegations of unpaid debts.
Just weeks later, in June 2019, Mr Rigby announced both the Charter Theatre and Guild Hall were both back in business. But this was quickly quashed by Beverley Budsworth, the administrator in control of Mr Rigby's company – Preston Guild Hall Ltd – who said the 999-year lease had been forfeited due to what the city council said were "significant breaches" of the lease agreement.
Preston Guild Hall was returned to Preston City Council's ownership, with council leader Matthew Brown saying at the time they had been 'let down'.