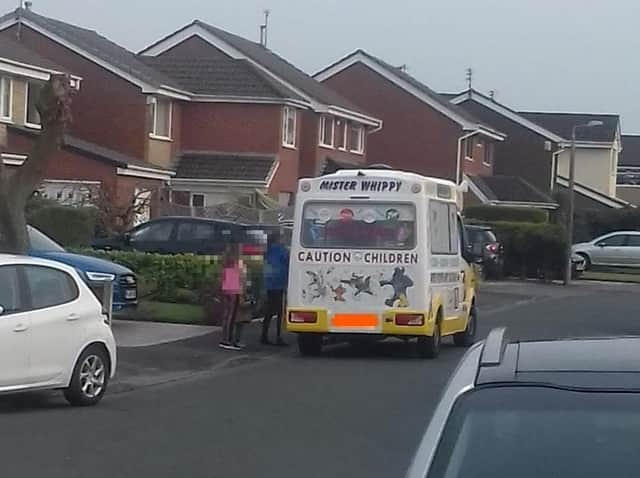 An ice cream van visits streets in Preston on Tuesday, March 24. Pic credit: David Illingworth
With most people confined to their homes since Tuesday's lockdown, Preston's streets have become eerily quiet.
But families might have been surprised to have heard the familiar chimes of an ice cream van breaking the silence in the deserted streets outside.
A number of ice cream vans have been spotted cruising around the city this week, including in Ingol, Cottam, Ashton, Larches and Penwortham.
This ice cream van was spotted in Fulwood yesterday (Wednesday, March 25)
Fulwood dad Lee Taylor was left fuming after one vendor parked up leisurely outside his home.
"The van was practically on my drive and my daughter was so upset when I told her she could not have an ice cream," said Lee.
"I had to try and explain why the risk to herself and our family is too great.
"She couldn't understand that if we had treated ourselves to an ice cream, we might have brought the contamination back into our house."
Another ice cream van in Ashton Bank Way, Preston on Tuesday (March 24)
Prime Minister Boris Johnson has ordered all non-essential shops and services to close, but what does this mean for the city's fleet of ice cream vendors?
Despite the Government publishing a comprehensive list of businesses that can continue to trade during lockdown, the role of the ice cream seller remains unclear.
Takeaways are allowed to stay open, for collection and delivery orders only, and you can still use online services such as Deliveroo and Just Eat to have food delivered to your home.
But are ice cream vans essential and are they considered takeaway? Or are they putting customers at unnecessary risk of catching the deadly disease?
'Rogue vans' that continue to trade have even been condemned by other ice cream vendors in the city.
Sean Rogers, owner of Super Whip & Desserts, oversees a fleet of ice cream vans across the North West.
He said: "As an ice cream vendor I can assure you that none of us condone these actions.
"We have a Facebook page especially for all vendors and we are trying to find out who these rogue vendors are."
Sue Post, an ice cream vendor in Preston, is urging anyone who sees a van to report it immediately.
"There is no way these vans should be trading", said Sue.
"We have stopped trading as the Government ordered on Monday and we will only be back working when it is safe to do so.
"I have been in touch with Environmental Health, and they said you should definitely not buy from them, but because of limited resources at the moment, they can't do anything.
"If anyone sees these vans around they should report it to the Council immediately."
Councillor Matthew Brown, leader of Preston City Council, said ice cream traders are putting people at risk in encouraging them to leave the safety of their homes.
"The message from the Government is people should stay at home except in specific circumstances – to buy food, or medicine, exercise once a day or to go to work where that work cannot be carried out from home", said Cllr Brown.
"Ice cream is not an essential commodity. It is irresponsible of ice cream traders to be encouraging people to come out of their homes at a time when everyone should be doing all they can to limit the spread of the virus, to protect vulnerable people, and reduce strain on the NHS.
"Members of the public should be doing all they can to help protect the NHS at this time.
"I would also like to take the opportunity to emphasise the need for social distancing across Preston including in essential workplaces.
"A number of Councillor's have received reports from key workers saying they are not operating in environments with social distancing enforced when it could be.
"We must all adhere to this guidance or lives will be lost."