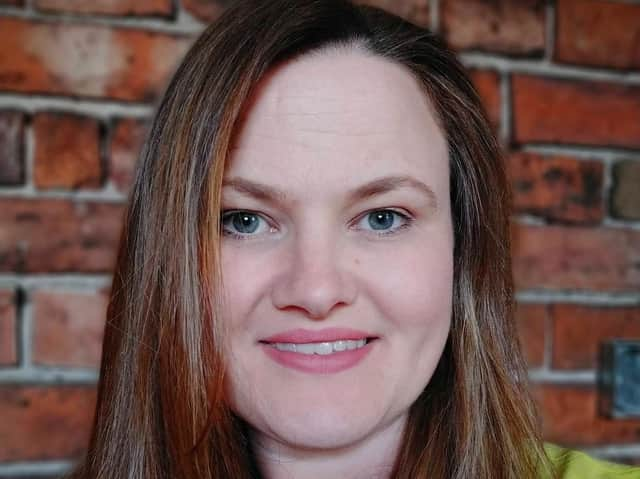 Genevieve Pegg, Publishing Director, HarperNorth
Imagine a major publishing house setting up an HQ in the northwest.
It is the kind of invitation and opportunity the region's aspiring authors could only have dreamt about until now.
Now imagine no more. For as of this summer this is reality, thanks to the decision of Harper Collins to set up a Manchester based office and lay out a welcome mat for those who have written works of fiction and those with captivating ideas and outlines for works of non-fiction.
Looking out on the north: the view from HarperNorth's new office base in Manchester
HarperNorth opened its new premises at 111 Piccadilly earlier in the summer. Publishing Director Genevieve Pegg said: "We wanted to be easy to find and say this is our base.
"Publishing has been so London centric for a long time ...There's no limit to where a story is born. You've to get in there and listen to them. For some people London feels a long way away."
She stresses they are keen to break down barriers to new voices being heard and demolish the idea that to get published it's a case of who you know. Genevieve said: "To be a writer you don't need an old school tie or to look a certain way. "
She continued: "We're lucky we got to set this up with a wide remit. We're looking for writers from the region. The stories themselves don't have to be purely about the north."
First signing - part of the book cover for HarperNorth's first book
They will, she says take on writers from anywhere in the world who now call the north their home: "It's writers addressing an issue that's particularly pertinent to our readers. We have a northern mindset for voices perhaps slightly outside the main drag. We know what it is (we're) looking for - people to feel their voices are a bit of an outlier."
Genevieve, who is from the north west herself, stressed that by having their office so firmly rooted in the north it is hoped writers will see HarperNorth as truly part of their local culture and be encouraged to think: "maybe my story/voice is important."
Many of the HarperNorth launch team have connections with the region, so for them it has been something of a homecoming.
She said: "One of the things I've said is sometimes when you're in the capital how you can say the north is one thing. Of course, when you're outside of London you see all that wonderful diversity, you experience the difference if in the rural north or cities ... the big difference between the north east and the windblown west coast. By having our Manchester office it's a way of saying we're open and it's that chorus of voices, rather than just saying the north."
Alice Murphy-Pyle, Head of Marketing at HarperNorth
They are, she stressed looking forward, while acknowledging the region's past and influences on the present. She continued: "Often people feel we've got the cliches of northern grit and course we have some hard hitting stories to tell - doesn't every region? People also feel perhaps historically focused looking back at the great days of the north, history and heritage."
Genevieve acknowledged there is rightly pride in that culture but stressed: "There's a lot to celebrate about the present and looking forward. The books we publish will be from here and very much for everyone and and taking that story to the world ... We've the luxury of having a blank canvas."
The company's first non-fiction signing has its roots in Liverpool. Football author Melissa Reddy has been commissioned to write an account of Liverpool FC (Football Club's) season. Her book Believe Us: The story of how Jürgen Klopp led Liverpool to Victory will be published by HarperNorth on November 15 this year. It will tell the inside story of Liverpool's road to the Premier League title and will boast exclusive interviews with manager Jürgen Klopp, leading players and backroom staff.
The company says it is on the look out for submissions and outlines in genres ranging from crime to rom-com and memoir to history. But HarperNorth is not seeking science fiction, fantasy, children's books, plays or poetry.
Alice Murphy-Pyle, head of marketing at HarperNorth, said: "We have been bowled over by the talent, passion and creativity of people in the north. From booksellers to writers, librarians and readers, we knew that there was a demand for a new non-London publishing division and we are so enthused and excited by the response. The ability to take the books we publish out to an international audience is a huge opportunity for northern writers."
HarperNorth says it wants a dialogue with authors. The company's success will be judged by its future catalogue. Genevieve pledged: "From our point of view we're here for the long term. It's not a project, or initiative or experiment. It's part of the main cut and thrust of publishing. We're here for the long haul."
* Twitter: @harpernorthUK