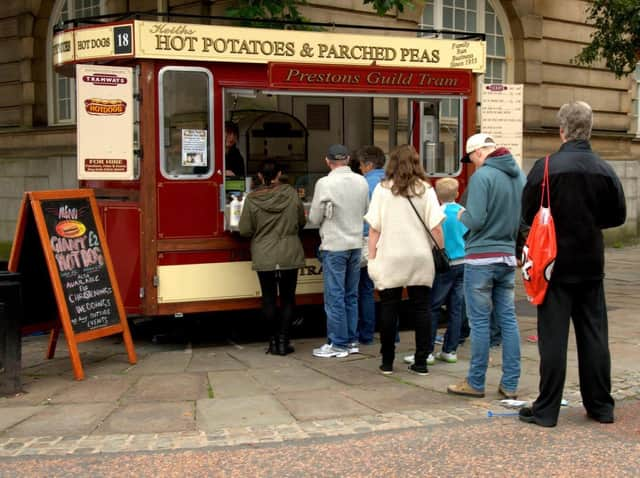 The Hot Potato Tram will return to Preston's Flag Market on Monday, November 2
The city's much-loved 'Spudman', Keith Roberts, died on September 28 aged just 43, but his legacy lives on with the return of his famous hot potato stall outside the Harris Museum.
Keith's old friend Tony Nelson, 53, has revealed that he will be reopening the Hot Potato Tram, with all the familiar spud fillings that have warmed the stomachs and souls of Prestonians over the years.
And in proper 'Spudman' tradition, Tony will be working alongside his sons, aged 25 and 18, just as Keith proudly followed in the footsteps of his own father and original 'Spudman' Keith Snr.
Keith 'Spudman' Roberts died aged just 43 on September 28 after a battle with cancer
Tony said he had been honoured when Keith had asked him to take over the business after he had been diagnosed with cancer.
Born and bred in Preston, their families are old friends and Keith had even given Tony's children, Brittany and Jake, their first part-time jobs on his hot potato stall.
In a post on the Hot Potato Tram's Facebook page, new owner Tony confirmed that the stall will be reopening at 11am on Monday, November 2.
He said: "Sadly, much mourned, the popular Keith Jnr died prematurely at the beginning of October.
"When his illness was diagnosed he contacted his old friend Tony Nelson to ask if he would be willing to take over the business.
"Keith had given Tony's daughter and son, Brittany and Jake, their first part-time jobs. He wanted the venture to remain a family affair and trusted Tony to retain its character.
"A Preston lad, former sales manager for Carlsberg, and married to Helena, a consultant in the food industry, Tony accepted with alacrity.
"The father and son tradition will be continued as Tony and son take over.
"Prestonians can look forward to the familiar sight of the welcoming tram in its customary place on the Flag Market next to the cenotaph, serving hot, tasty food to cheer them up as the days shorten and the cold weather moves in."
Tony added: "It's an exciting venture. I'll put all my energy into it and try to serve the people of Preston as well as Keith and his family.
"The enterprise will be a memorial to Keith, to his popularity and the simple, hearty fare for which he was known."
Tony added that he intends to expand the menu and is thinking of introducing homemade soups, breakfasts, as well as hot and cold drinks.
Thanks for reading. If you value what we do and are able to support us, a digital subscription is just £1 per month for the first two months. Try us today by clicking here