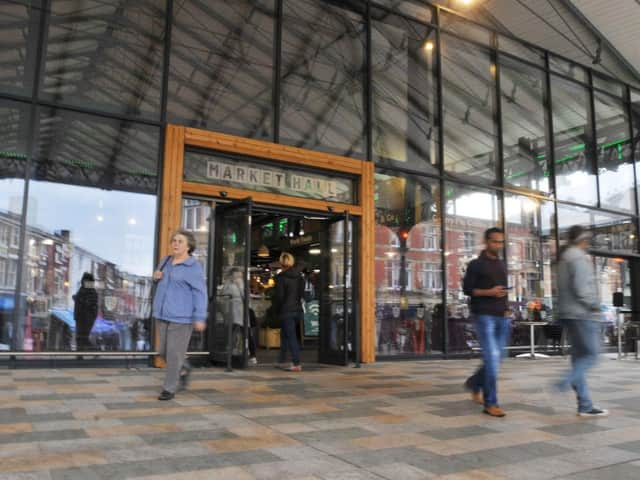 The three-month rent relief period will help traders at Preston Markets during the coronavirus lockdown
This rent relief period will help all the businesses at Preston Markets and enable the fresh produce traders to continue to operate from the Market Hall or through their home delivery service.
Preston City Council still advises businesses to reach out for the Government support during this difficult time, including business rate relief and business grant support.
Councillor Matthew Brown, leader of Preston City Council said: "As a council we are pleased to offer the traders this rent relief, supporting their individual business, while ensuring a positive future for Preston Markets.
Many traders have temporarily closed at Preston Market Hall since lockdown came into force on March 23, 2020
"I would like to say a big thank you to the traders who are able to continue to operate at this difficult time, offering essential fresh produce to the people of Preston, this is greatly appreciated by both myself and all your customers.
"I would encourage everyone in Preston to continue to shop local and support our independent businesses who are anchored in our community during this unparalleled time."
Sam Livesey, head of the Traders Association at Preston Markets said: "The three month rent relief from Preston City Council is greatly appreciated by all traders at this difficult time.
"It means that the fresh produce traders who are still open can continue to serve and deliver local, fresh food to the people of Preston.
"This rent free period also means the traders who are unfortunately currently closed, will be able to return to their thriving businesses when it is safe to do so.
"Myself and all of my fellow traders really appreciate all the support Preston Markets has received during these unprecedented times and look forward to when the Markets are fully re-opened."
Other businesses occupying Preston City Council premises on short term agreements in the city centre will also benefit from the three month rent free period.
The Council said it will also consider providing assistance to those businesses occupying Council premises outside the city centre, which have been severely affected by Covid-19.
If you are a Council business tenant and your business is unable to open or has been badly affected by Covid-19, you can contact Preston City Council by email at [email protected]